CoffeeBI is an independent business intelligence boutique specialising in the coffee industry.
Our mission is to provide professional coffee players with a comprehensive and disruptive point of view with practical and easy-to-consume insights into the coffee industry
We are an international team of professionals, market experts, analysts, and coffee lovers that go the extra mile to answer the concrete market and business questions of coffee roasters, distributors, coffee machine manufacturers, suppliers, vending, packaging, and all the main players in the B2B coffee industry.
Answering specific issues means managing a huge amount of information from different sources, by merging market figures, company results and world scenarios with the use of research, analysis, CRM, marketing, and technology.
We have a start-up soul, a deep love for coffee, and 20 years of experience in market intelligence.
CoffeeBI is a brand of EuroEuro s.r.l., a company based in Italy and established in 2003. CoffeeBI main milestones:
In January 2016, we launched our new platform to collect data and insights for the coffee market, opening a direct line with our clients.
In July 2016, CoffeeBI merged forces and research team with DataResearch, leader in the espresso coffee machine market analyses, that had operated since 2010.
Since October 2016 CoffeeBI has officially become a member of SCAE, Specialty Coffee Association, a non-profit association with members across more than 90 countries worldwide.
In January 2017, CoffeeBI became a marketplace for coffee, equipment for the coffee industry, and machinery & plants for coffee processing reports, by signing an agreement with 5 of the largest research agencies in Europe, the USA, and China.
In April 2017, CoffeeBI launched the first B2B community for the coffee Industry with the purpose to support the match between supply and demand.
In January 2018, CoffeeBI launched its Premium Insights, a high value bulletin service to keep clients informed on several market key figures.
---

CONSULTING, RESEARCH & ANALYSES
We are highly specialised in the coffee industry: we go in-depth into the market analyses following the whole industrial chain, covering the coffee market, equipment for coffee, machinery & plants for coffee processing.
THE FIRST B2B COMMUNITY FOR THE COFFEE INDUSTRY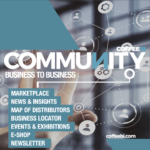 CoffeeBI launched the first community dedicated to the B2B coffee industry. You can promote, support, and do business with other companies of the same industry. We work with global and local partners, promoting networking and business opportunities.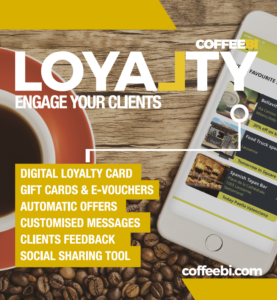 SOLUTIONS FOR COFFEE SHOPS
Customer experience, exclusive service, loyalty and engagement are a must in a so competitive business world.  CoffeeBI helps coffee shops and chains to grow, by increasing their potential and taking care of their customers with tailored developing plans and with the support of technology.