Host Milano 2019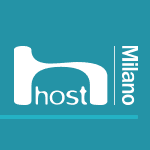 From 18 to 22 October 2019, Milan once more becomes the "capital of the professional hospitality industry". Ready for its 41st Edition, HostMilano is the go-to fair for Equipment, Coffee and Food, as well as absolute leader in Ho.Re.Ca., foodservice, retail, mass retail and the hotel industry. The exhibition layout combines supply chains and common services, leveraging the specificities of each and every sector and individual enterprise to guarantee the maximization of investments. Visitors are guided through the Fair along functional pathways that optimize available time and the visit experience.
500 events spanning seminars, workshops, contests, championships, show-cooking, tastings and performances, all offering top innovative and artistic content. Style and innovation drive the events dedicated to tomorrow's design and creativity for the products on show. Specialist advanced courses and workshops are an ideal complement to the business opportunities on offer, providing interesting ideas on how to optimize and leverage your business.
Coffee: the perfect blend of tradition and the future
Selected roasters, importers, producers and industry players from five continents, as well as the world's top firms all come to HostMilano because it is the place where the entire coffee business meets. From the green bean through the various stages of processing all the way to the end taste.
MEET COFFEEBI – HALL 14 BOOTH N10