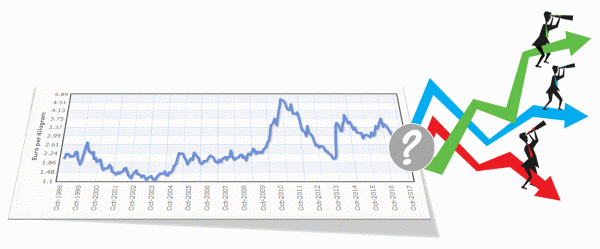 Purchasing of raw material is the first cost element of  the balance sheet of roasting and distributors' companies. Price fluctuations could be important, since the historical minimum of 1 euro per kg from 2003, went up to 4,5 in 2010.
Consequently, companies usually buy the quantity they need for production in a continuous manner or, to stabilise the price, buy future contracts.
This passive approach is certainly safe but this is a sort a condemnation to compete in market only in the field of the operative costs.
But as the added value in the market is not high, the price competition erodes your margins if you are not particularly able to differentiate your product in terms of having a particular premium price.
So, how to try to speedily regain margins? Buying raw material at a lower price than the competition does.
It means turning from a passive to an active purchasing approach, and this different approach could also generate millions of euros at the bottom line.
CoffeeBI offers a service of personalised consulting to roasting and distributor companies to support you to make purchasing decisions and be an active subject on the market.
Our service is supported by several elements:
A database of 20 years of history of prices, related to relative crops and consumption
The history of price correlation between coffee qualities
The history of pricerelationship between coffee and other alimentary commodities
Economic experts about coffee market function
Our service is articulated in the following way:
A first "transfer of competences" to the client about market laws
A weekly e-mail about price situation and future trends and opportunities
Personalised support with an our expert, by phone or with direct meetings, to support you in the decision making process.
The service is based on an annual fee.
---
ASK FOR INFORMATION