Receive a direct feedback by your clients, take actions, analyse their satisfaction, and work on their engagement
Customer Experinece Matters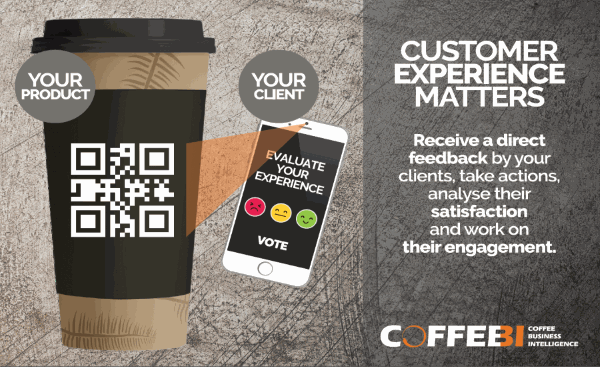 Even if your product is really good, the market is a jungle of restaurants, bars, pubs, deli corners, street food stands, take away shops, junk food distributors and every kind of temptation for your customers. On top of that, it takes just one review on a website to kill months of work. So customer experience matters, definitely!
Technology is important but it's not enough. CoffeeBI merges specific experience in marketing and research with technology, creativity, and vertical expertise in the HoReCa industry. 
An easy technology asks for your customers' experience and you can receive their real-time feedback on specific products or service. Clients can vote with their smartphone. Easy and immediate. 
Always on for Ho.Re.Ca. players
How can I be the first to know if something went wrong with one of my clients... and act on it?

Some ideas for your business
DEFEND YOUR BUSINESS
TAKE ACTIONS QUICKLY
TRAIN YOUR EMPLOYEES
DEFEND YOUR BUSINESS
Reinforce positive thinking and reduce negative effects
All types of positive or negative feedback on one of the many review websites affects your brand, no matter if the score is given to only one of the shops in your network. We call this the "TripAdvisor effect" and it represents a serious issue to take into consideration, either if your position is good or bad. 
If your score is good you need to consolidate your positive position, if it's bad you need to reduce the negative wave. CoffeeBI helps you to get immediate feedback to reduce any further actions by unsatisfied clients by 80%. Experts calculate that one bad review on a website kills the effect of 30  positive ones.
TAKE ACTIONS QUICKLY
Be aware and take actions to engage clients
Receiving direct feedback allows your team to be aware of what is going on in their shops (or shop network). 
If your franchising works with Local managers, they need to have their business under control, to take direct action in regards to unsatisfied clients or targeting campaigns basing on ongoing results. 
As well, the headquarters need to check how the brand is treated by franchisees and calibrate marketing campaigns with the chance to target messages to specific clusters (for example, very satisfied clients, geo-localised clients, etc.). CoffeeBI lets your local manager receive real time feedback and helps you analyse the results and take action. And remember: some remarketing campaigns are very effective for satisfied clients.
TRAIN YOUR EMPLOYEES
Help your people to work for an excellent service
Training people is always a circular process. Arrange your training plans basing on ongoing and real results, and check the progress with data & info collection. 
Also, give your operation managers an effective tool to check the progress of their staff and the progress in their training session. Customer experience is more and more a key factor to success in the HoReCa sector.
May we help you building a bridge between your customers and you?