FOCUSED ON THE COFFEE INDUSTRY: OUR STRENGTHS
The Coffee Mole is the name of the CoffeeBI product that provides highly granular coffee market size estimations by geographical area. Five incremental depth levels allow you to choose the right level and granularity of information for your analyses.
Focused on the B2B coffee industry
Leaders in Professional Espresso Coffee Machine analyses
Five depth levels to analyse the coffee and coffee machine markets
Cross-check information throughout all the industrial chain
---
WHAT WE DO IN THE RESEARCH AREA
CoffeeBI is highly specialised in the coffee industry.  We go in-depth into the market analyses following the whole industrial chain, in particular:
Coffee(R&G, Whole bean, Portioned, Instant/Soluble, RTD)
Equipment for coffee (Espresso Coffee machines, Filter Coffee machines, Liquid Coffee machines, Pod machines, Commercial Grinders)
Machinery & plants for coffee processing(Roasting machines/plants, Industrial Grinders, Dosing, Filling & Wrapping machines)
---
You will be ready in just 3 steps:
1st STEP: WHERE YOU CAN GO
Choose the countries you need to analyse. The most required countries so far: The European market, Germany, The United Kingdom, Italy, Spain, France, China, etc.
2nd STEP: WHAT YOU CAN CHOOSE
Choose the business you need: coffee, coffee machine or other Ho.Re.Ca. product.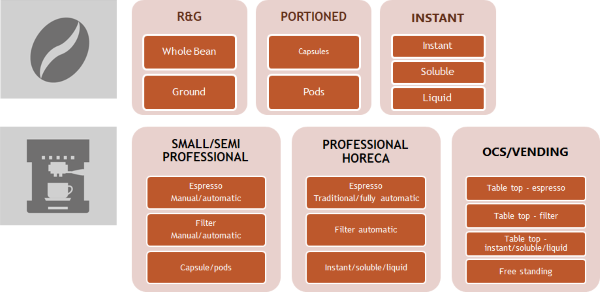 3rd STEP: HOW YOU CAN GO INTO DEPTH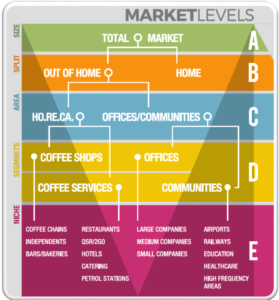 Choose one of the 5 depth levels:
[A] Market Size: The coffee market in value and volumes, an overview of the main changes in the coffee markets, with the main trends of imports and exports.
[B] Market Split: The total coffee market shared into Home (H) and Out of Home (OOH) markets in value and volumes.
[C] Market Area: The in-depth analysis of Out of Home (OOH) segment divided into HoReCa and Office/communities.
[D] Market Segments: instead of the consolidated figures, with this option your receive a further breakdown for every segment.
[E] Market Niche: The coffee market fragmented into micro segments, to get an unprecedented level of details for the coffee distribution.
---
WHAT OUR COMPETITORS CANNOT DO
These are the levels and segments where our competitors operate: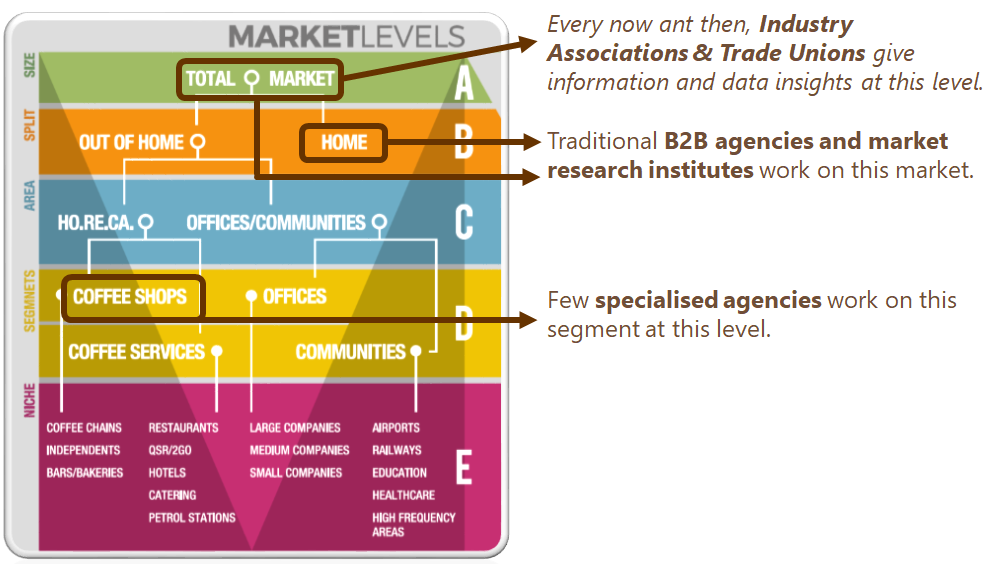 ---
METHODOLOGY
CoffeeBI reports include data and values that come from an extensive usage of both primary and secondary data sources, calculated according to in-company elaborations of production, export and import by countries, the study of various factors affecting the industry, including the government policy, market environment, competitive landscape, historical data, present trends in the market, technological innovation, upcoming technologies and the technical progress in the coffee industry, market risks and opportunities, market barriers and challenges.
The data on market dimensions, segments, and trends are calculated according to in-company experience and knowledge of markets based on our internal database, qualitative interviews, dimensions of out of home markets, and other local or international sources:  International Coffee Organization (ICO), Eurostat, local coffee associations, and other sources.
Information on companies (business profiles, strategies, and market shares) are collected by public sources (annual reports, companies information) and interviews (face to face or by telephone). Information is collected also through deep qualitative interviews with coffee industry experts, market leaders, sellers, and associations.
Last but not least, the data from the coffee market are double checked with data coming from the equipment markets (above all coffee machines) and vice-versa.
---
ASK FOR INFORMATION