OUR STRENGTHS
Focused on the coffee industry
Leaders in Professional Espresso Coffee Machine analyses
Direct contacts with operators
Cross-check information through all the industrial chain
---
FOR BIG PLAYERS AND INTERNATIONAL BRANDS
You are probably already drowning in an ocean of generic, inconsistent, unproven data points and information coming from different sources. While getting such data may seem like the quickest path at first, you quickly realise how much cleaning and "guess work" is left to you, distracting you from strategic activities and eating away at precious analysis time.
Our product lines are dedicated to marketing departments and consultancy firms. They are modular suite of highly accurate and granular coffee & coffee machine market data and information, that lets marketing teams and consultants focus on providing relevant analysis and advice without the pain of searching and cleaning up figures. And, thanks to a proven methodology, it delivers in very competitive times! 
---
OUR SEGMENTS
We are highly specialised in the coffee industry,  we go in-depth into the market analyses following the whole industrial chain.
We cover the following markets:
Coffee (R&G, Whole bean, Portioned, Instant/Soluble, RTD)
Equipment for coffee (Espresso Coffee machines, Filter Coffee machines, Liquid Coffee machines, Pod machines, Commercial Grinders)
Machinery & plants for coffee processing (Roasting machines/plants, Industrial Grinders, Dosing, Filling & Wrapping machines)
---
OUR RESEARCH PRODUCTS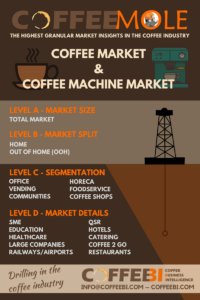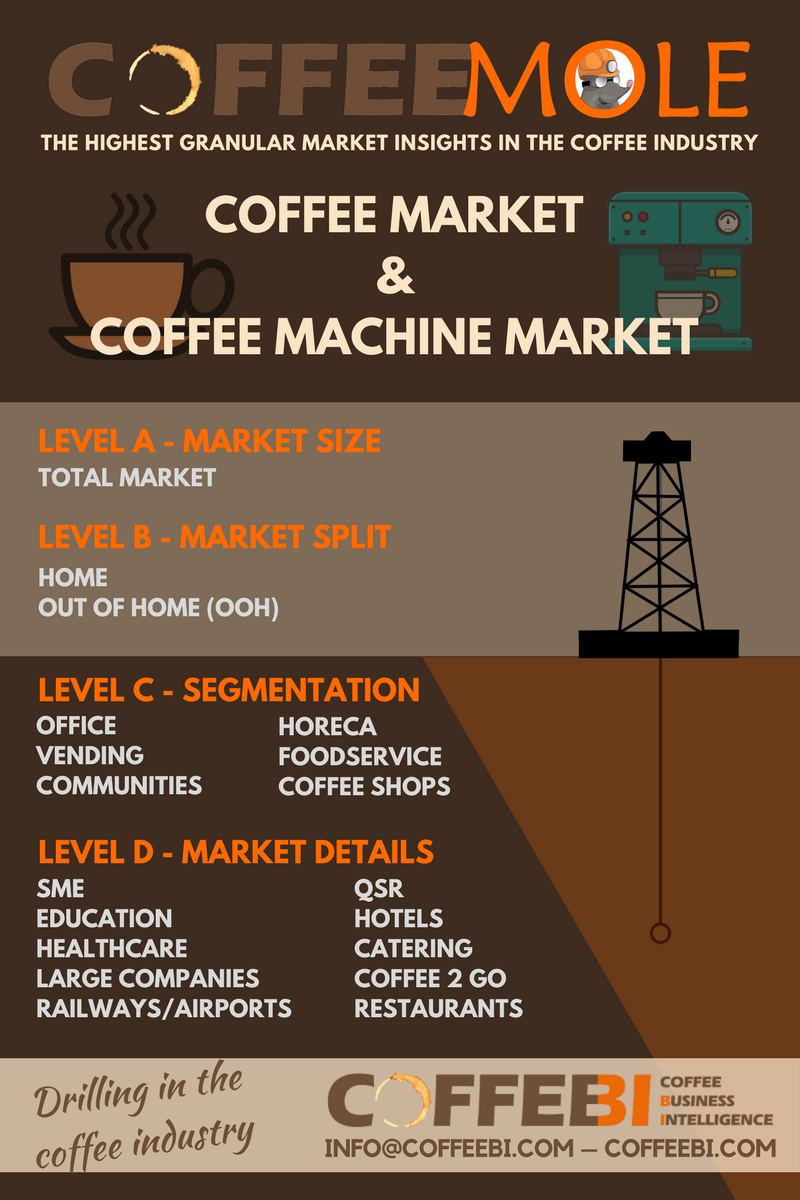 Highly granular coffee market size estimations by geographical area. Four incremental depths are available to let you choose the right granularity for your analyses. You can also add options to get splits by coffee type and market shares.
Detailed competitor sheets for the operators selected by you that gives you a specific competition analysis on one or more specific coffee segments you require (i.e. HoReCa, Office, etc).
---
Benefits
Data that matters.

We are specialised in the coffee market and work hard to provide meaningful and relevant business indicators, not rows of generic numbers.

Easy to navigate.

Our data is consistent and browseable throughout the different market splits. So that you can just point at the Market/Coffee type to get the relevant data.

Data granularity. Our analyses drill into

 the coffee markets, providing detailed data split by segments, consumption type, and coffee type.

Data consistency:

we seamlessly combine "top down" (market) data with "bottom-up" (B2C) data, so that you can get consistent numbers from the broadest and more general to the most detailed view.