On the coffee and coffee machine markets

The Coffee Market Mole (CMM) provides highly granular coffee market size estimations by geographical area. Four incremental depth levels are available to allow you to choose the right level and granularity of information for your analyses.
CoffeeMole and its 4 levels:
Click to enlarge

[A] Market Size: The coffee market in value and volumes, an overview of the main changes in green and roasted coffee, with the main trends of imports and exports.

[B] Market Split:

The coffee market shared into Home (H) and Out of Home (OOH) segments in value and volumes. Includes the Market Size module.

[C] Market Segments:

The in-depth analysis of Out of Home (OOH) segment divided into Foodservice/HoReCa, Office, Vending. Includes the Market Split module.

[D] Market Details: The coffee market fragmented into micro segments, to get an unprecedented level of details for the coffee distribution. Includes the Market Segments Module.

Two additional options let you get an even greater granularity:
Segment split:

 instead of the consolidated figures, with this option your receive a further breakdown for one or more of the following: Roast&Ground (R&G), Instant/Soluble, Pods/Capsules, and Ready to Drink coffee (RTD)

Market Shares:

for an accurate competitive strategy, get a further split by coffee roaster of one or more data points 
Our Market Mole output consists of detailed and easy-to-use Operational Data Tool in Excel and it is accompanied by a graphical navigation system (in PDF) that helps to get a synoptic view of the market and data.
CoffeeMole Competitors
CoffeeMole arrives where our competitors cannot do, with 4 levels of depth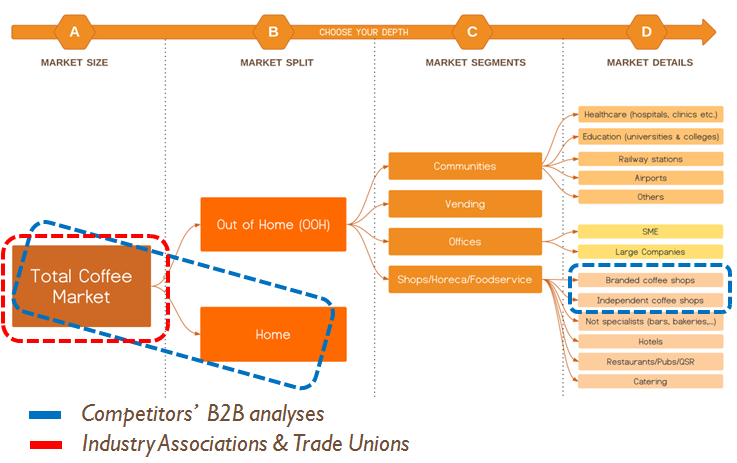 Get a quote in 4 easy steps:
Select the country of interest
Select the depth: Market Size, Market Split, Market Segment, Market Details

Option: select a split by coffee type (R&G, Instant, Pods/Capsules, RTD) – default is all consolidated

Option: select the data-points for which you want a "market share" split – default is no share.