About CoffeeBI Market Research Reports
If you are either a local roaster or an international brand, a coffee machine manufacturer or a consulting firm, CoffeeBI helps you make the right decisions for your business. 
We know how important data and figures are for your decisions and investments, and we have been working for years to give you just that, no frills.
As CoffeeBI is specialised in the coffee industry, we can analyse the market like no one else can do, by splitting markets, segments, and micro niches, by seeing eye to eye, by understanding your pains and your opportunities.
From the coffee industry to the coffee industry, our reports go straight to key the information without a huge amount of useless pages and repeated data. We don't want to give you quintals of pages, but just few and extremely high-quality data.
The right decision at the right time is the key driver for your success. Take a look at our reports (click here) or ask for an ad-hoc analysis (click here).
---
Our analyses in only 3 steps
Ask for an analysis is really easy, and you can order it in only 3 steps: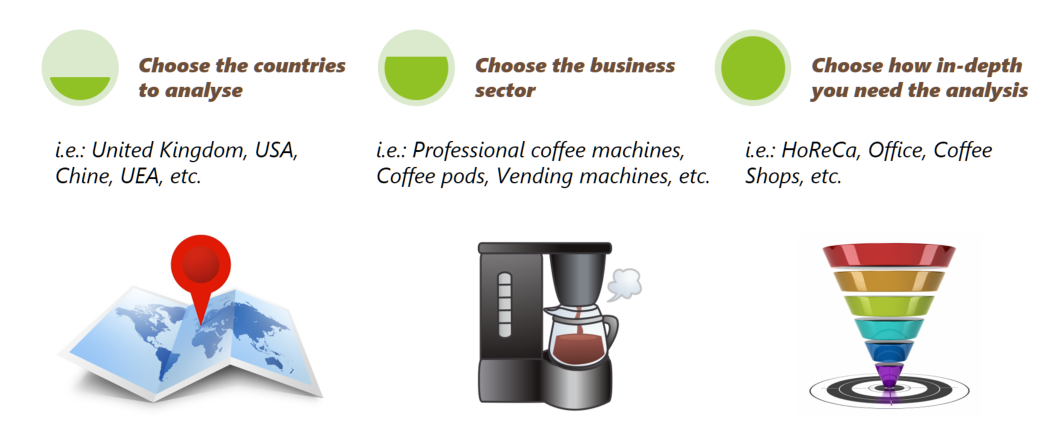 1st step: choose the countries
Europe or Asia? Canada or Korea? Whatever is the country/continent you need to analyse, this is the first step.
2nd step: choose the business sector
Choose among one of the following sectors: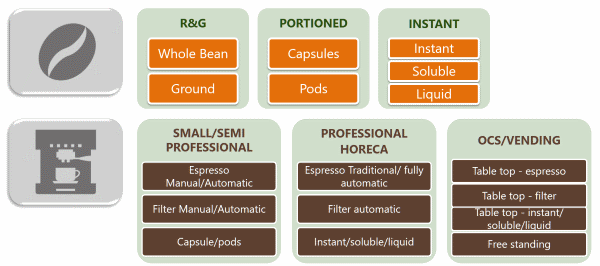 3rd step: choose the level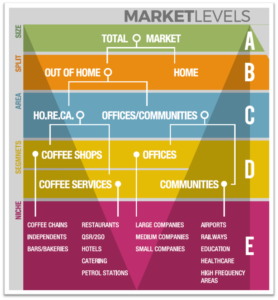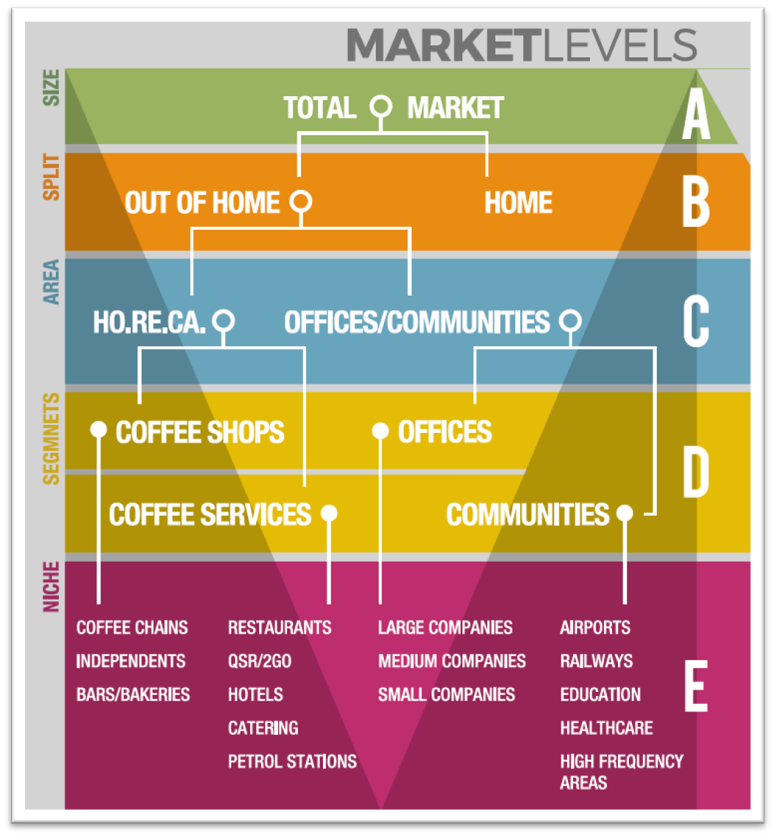 Choose one of the 5 depth levels:
[A] Market Size: The coffee market in value and volume, an overview of the main changes in the coffee markets, with the main trends of imports and exports.
[B] Market Split: The total coffee market split between  Home (H) and Out of Home (OOH) markets in value and volumes.
[C] Market Area: The in-depth analysis of the Out of Home (OOH) segment divided into HoReCa and Office/communities.
[D] Market Segments: instead of the consolidated figures, with this option you receive a further breakdown for every segment.
[E] Market Niche: The coffee market fragmented into micro segments, to get an unprecedented level of detail for coffee distribution.
---
What makes us different from your competitors?
These are the levels and segments where our competitors operate: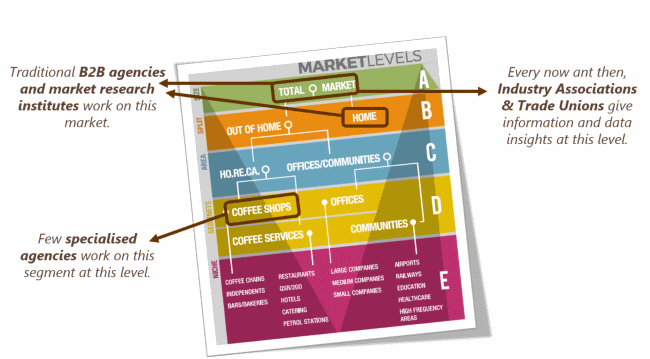 ---
Competition & Shares
Competition & Shares Reports are qualitative and highly customised analyses with 3 levels of depth for  products (Total shares, Machines, and Segments) and a breakdown for total shares based on business type (HoReca and Office).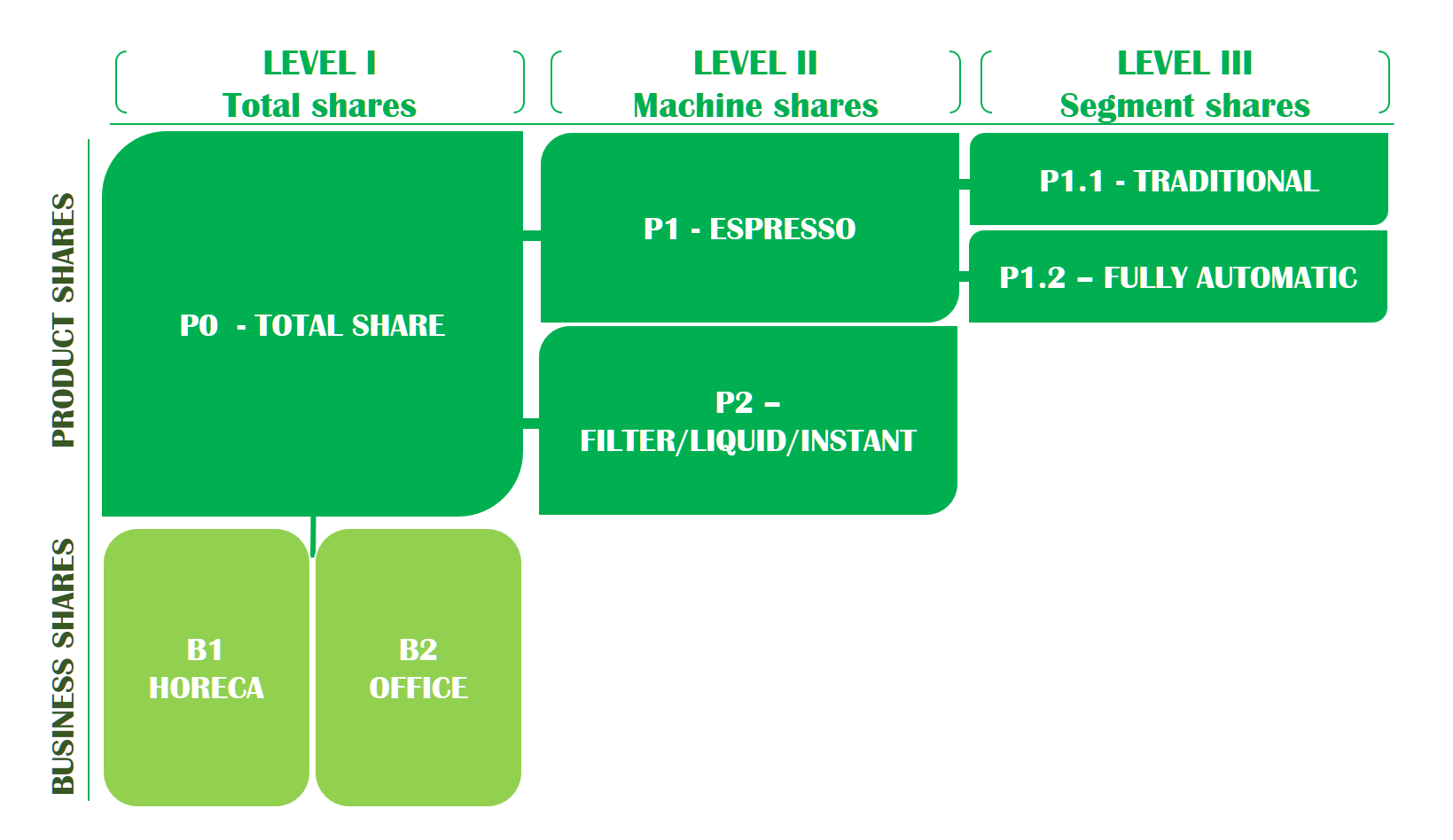 ---
Methodology
CoffeeBI is highly specialised in the coffee industry.  We go in-depth into the market analyses following the whole industrial chain. Being specialised in the coffee industry means having a deep knowledge of markets, its segments, niches, and micro niches. From roasted & ground to pods, from vending to professional coffee machines, from grinders to end users, we can cross-check our information throughout the whole industrial chain and analyse five depth levels of market.
CoffeeBI analyses include data and values that come from an extensive usage of both primary and secondary data sources, calculated according to in-company elaborations of production, export and import by countries, the study of various factors affecting the industry, including the government policy, market environment, competitive landscape, historical data, present trends in the market, technological innovation, upcoming technologies and the technical progress in the coffee industry, market risks and opportunities, market barriers and challenges.
The data on market dimensions, segments, and trends are calculated according to in-company experience and knowledge of markets based on our internal database, qualitative interviews, dimensions of out of home markets, and other local or international sources:  International Coffee Organization (ICO), Eurostat, local coffee associations, and other sources.
Information on companies (business profiles, strategies, and market shares) are collected by public sources (annual reports, companies information) and interviews (face to face or by telephone). Information is collected also through deep qualitative interviews with coffee industry experts, market leaders, sellers, and associations.
Last but not least, the data from the coffee market are double checked with data coming from the equipment markets (above all coffee machines) and vice-versa.
---
ASK FOR INFORMATION