VENDING, OCS, HORECA analyses
for your business
DEPTH OF ANALYSIS
COMPETITION (ADD-ON)
METHODOLOGY
GET INSPIRED
DEPTH OF ANALYSIS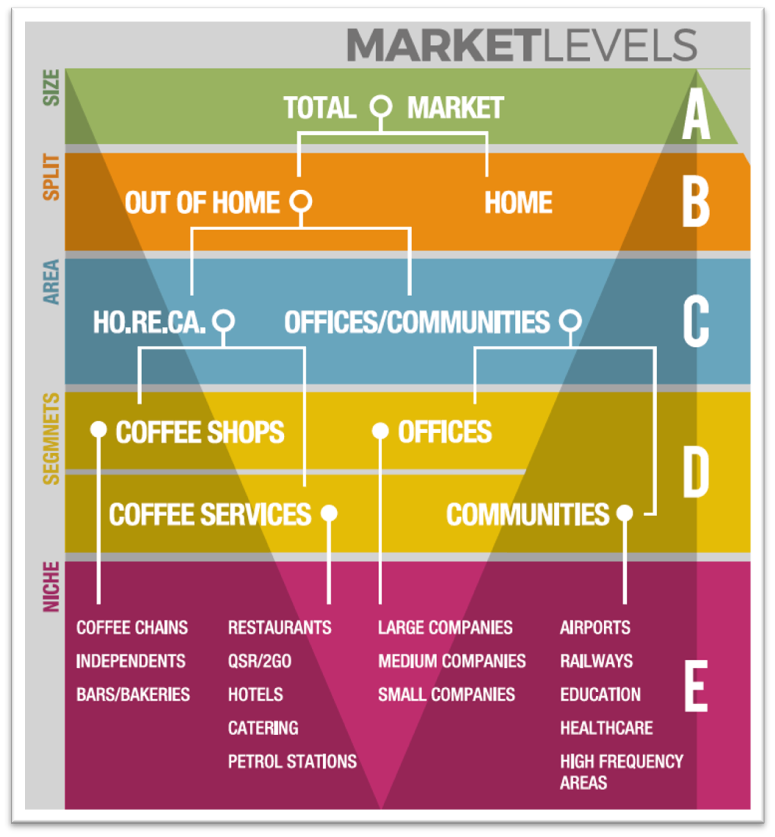 Working with data in the out-of-home market of the whole coffee supply chain means entering the specifics of a country and going deeper into the analysis of each segment.
This is the reason why it is really important to start by specifying the country and go down step by step, basing on "level" of details (according to our top-down methodology).
Look at the funnel in the image: you can see several levels of analysis. Choose your target level among the following ones:
[A] Market Size: The coffee and/or coffee machine market in value and volume, an overview of the main changes in the markets, with the main trends of imports and exports.
[B] Market Split: The total market split between Home (H) and Out of Home (OOH) markets in value and volumes.
[C] Market Area: The in-depth analysis of the Out of Home (OOH) segment divided into HoReCa and Office/communities.
[D] Market Segments: instead of the consolidated figures, with this option you receive a further breakdown for every segment.
[E] Market Niche: The market fragmented into micro segments, to get an unprecedented level of detail for coffee distribution.
COMPETITION (ADD-ON)
METHODOLOGY
GET INSPIRED