MARKET EXPERTS FOR DEEP ANALYSES
We don't provide data, we provide solutions.
Go in-depth into the industry 

with deep analyses of markets, its segments, niches, and micro niches.
Market and segment size
Competition & Shares
Price Forecasting
Consumer perception
Lists of companies
Market and segment size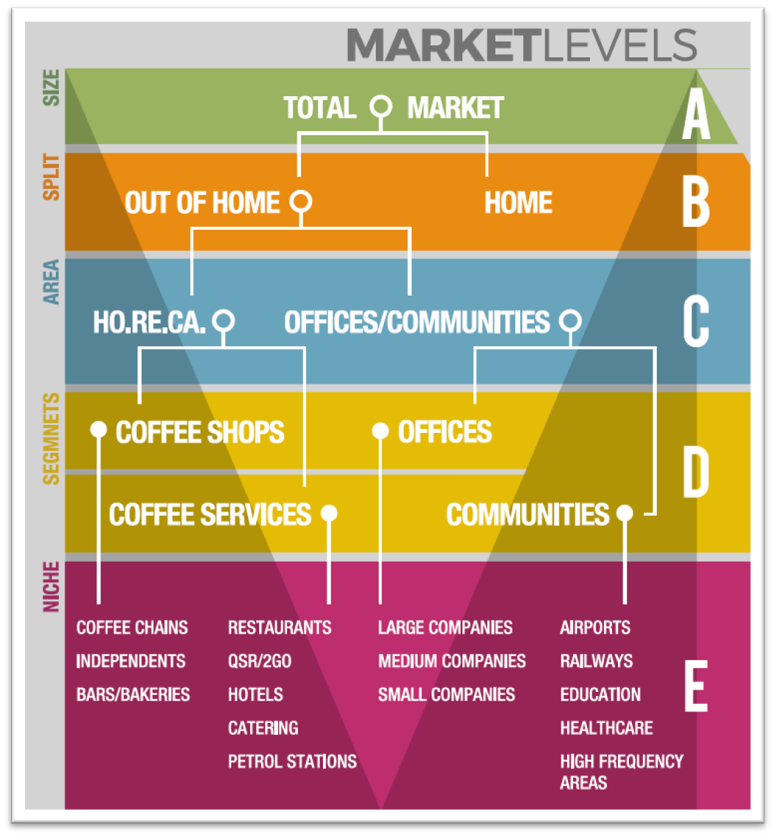 Market & Segment Size are high specialised analyses on worldwide markets with several levels of  depth:
[A] Market Size: The coffee market in value and volume, an overview of the main changes in the coffee markets, with the main trends of imports and exports.
[B] Market Split: The total coffee market split between  Home (H) and Out of Home (OOH) markets in value and volumes.
[C] Market Area: The in-depth analysis of the Out of Home (OOH) segment divided into HoReCa and Office/communities.
[D] Market Segments: instead of the consolidated figures, with this option you receive a further breakdown for every segment.
[E] Market Niche: The coffee market fragmented into micro segments, to get an unprecedented level of detail for coffee distribution.
Competition & Shares
Competition & Shares Reports are highly customised analyses with 3 levels of depth for  products and a breakdown for total shares based on business type (HoReCa and Office).
Price Forecasting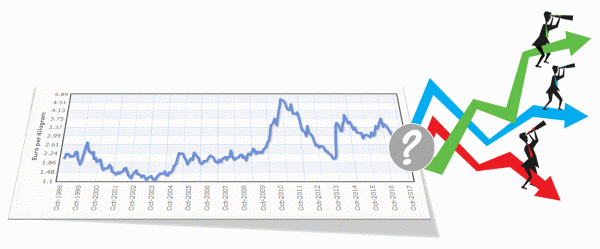 Purchasing of raw material is the first cost element of  the balance sheet of roasting and distributors' companies. Price fluctuations could be important, since the historical minimum of 1 euro per kg from 2003, went up to 4,5 in 2010. Consequently, companies usually buy the quantity they need for production in a continuous manner or, to stabilise the price, buy future contracts. This passive approach is certainly safe but this is a sort a condemnation to compete in market only in the field of the operative costs.
But as the added value in the market is not high, the price competition erodes your margins if you are not particularly able to differentiate your product in terms of having a particular premium price. So, how to try to speedily regain margins? Buying raw material at a lower price than the competition does. It means turning from a passive to an active purchasing approach, and this different approach could also generate millions of euros at the bottom line. 
CoffeeBI offers a service of personalised consulting to support you to make purchasing decisions and be an active subject on the market.
The service is based on an annual fee.
Consumer perception
Consumer Perception describes consumer points of view. This is an ad-hoc and powerful analysis to increase your market share and your business.
A complete analysis of end consumers tailored to your needs and based on focus group, ethnographic interviews, or panel questions carried out by researchers with 20 years of experience.
What can you investigate? Some examples:
The reasons for a choice: which brands do your consumers know? What does your brand represent for people and why do they choose it?
Opportunities: what do people know about your competitors? Do your competitors' customers know your products? And what do they know? What do they like and don't like? Is this a matter of taste, habits, distribution or price?
Key drivers: what are the key drivers that could move my competitors' clients to choose my coffee?
Lists of companies
Often you need to find new partners or  clients and your research become a big pain. 
CoffeeBI provides lists of companies with address and further tailored information. Coffee shop chains, foodservice, hotels, coffee machine manufacturers, grinders, coffee brands, etc.
4 STEPS TO ASK FOR A TAILORED REPORT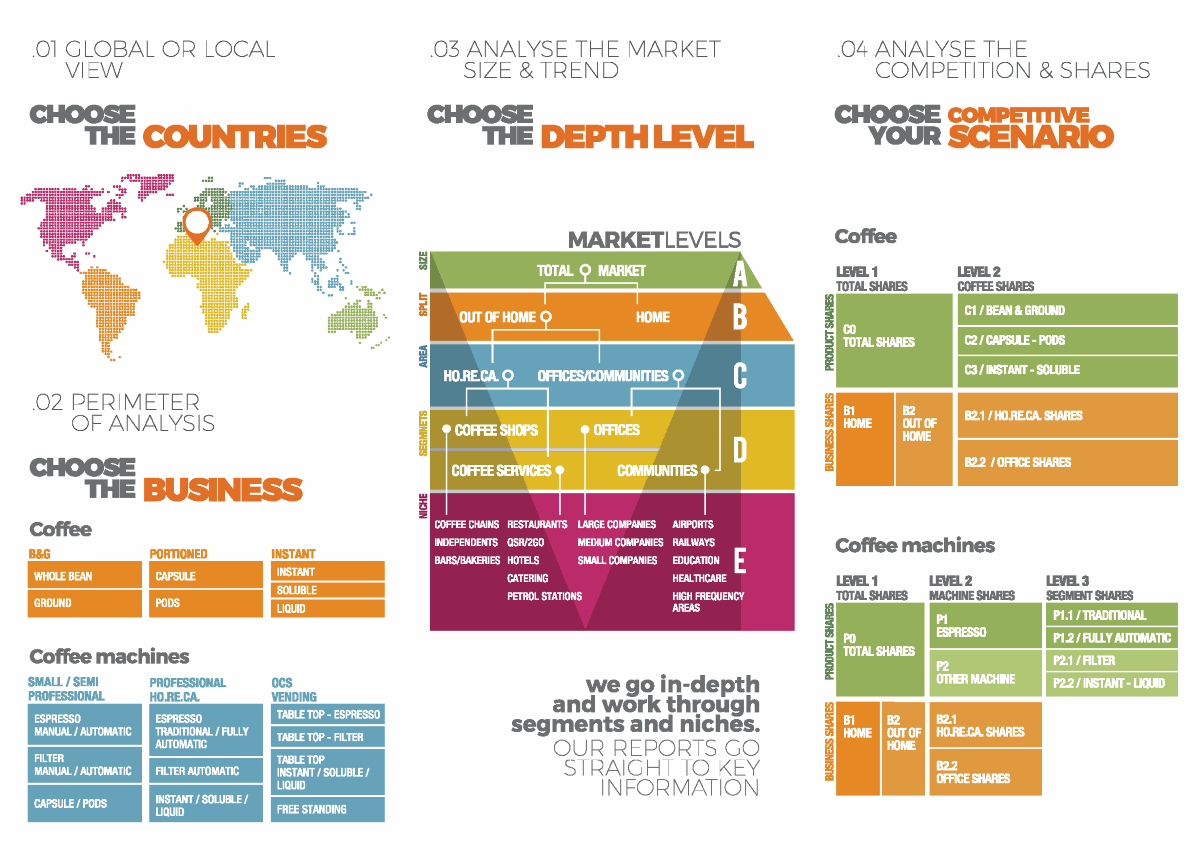 From the coffee industry to the coffee industry, our reports go straight to key information without a huge amount of useless pages and repeated data. 
We give you the competition scenario with just few and extremely high-quality data.
Market size and competition - Methodology
Qualitative Research - Methodology
Price Forecasting - Methodology
Market size and competition - Methodology
CoffeeBI analyses include data and values that come from an extensive usage of both primary and secondary data sources, calculated according to in-company elaborations of production, export and import by countries, the study of various factors affecting the industry, including the government policy, market environment, competitive landscape, historical data, present trends in the market, technological innovation, upcoming technologies and the technical progress in the coffee industry, market risks and opportunities, market barriers and challenges.
The data on market dimensions, segments, and trends are calculated according to in-company experience and knowledge of markets based on our internal database, qualitative interviews, dimensions of out of home markets, and other local or international sources:  International Coffee Organization (ICO), Eurostat, local coffee associations, and other sources.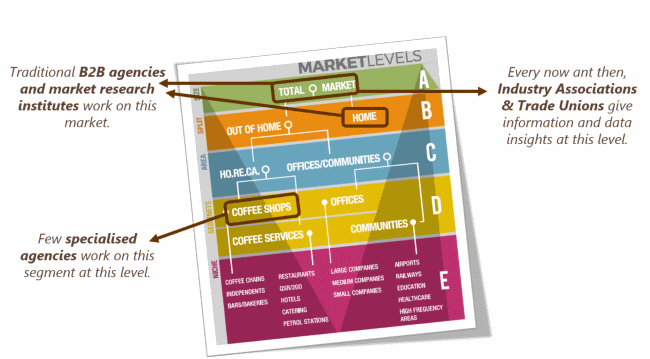 Information on companies (business profiles, strategies, and market shares) are collected by public sources (annual reports, companies information) and interviews (face to face or by telephone). Information is collected also through deep qualitative interviews with coffee industry experts, market leaders, sellers, and associations.
Last but not least, the data from the coffee market are double checked with data coming from the equipment markets (above all coffee machines) and vice-versa. What makes us different from our competitors? Take a look at the segments where our competitors operates and the ones where we are leaders.
Qualitative Research - Methodology
Focus groups provide insights into how people think and provide a deeper understanding of the phenomena being studied. A focus group typically consists of a small number of participants, usually around 6 to 12, from within a company's target market. The consumers are brought together and led through discussions of important company and brand topics by a moderator, giving the researcher the ability to capture deeper information more economically than individual interviews.
Ethnography is the study of social interactions, behaviours, and perceptions that occur within groups, teams, organisations, and communities. This methodology gives a strong emphasis on exploring the nature of a particular social or consuming phenomenon, by working with unstructured data and by investigating a small number of cases. We use online panels for extensive base to our  qualitative hints. Online panels are pre-selected groups of people that are participate in marketing researches.
Price Forecasting - Methodology
Price Forecasting service is supported by several elements: a database of 20 years of history of prices, related to relative crops and consumption, the history of price correlation between coffee qualities, the history of price relationship between coffee and other alimentary commodities, and economic experts about coffee market function.
The service is articulated in the following way: a first "transfer of competences" to the client about market laws; a weekly e-mail about price situation and future trends and opportunities; a personalised support with an our expert, by phone or with direct meetings, to support you in the decision making process.