Are you going to export, invest, or penetrate a target market?
You need accurate, in-depth, and customised information
WE STAND UP FOR OUR ANALYSES
We know how difficult is being always up to date in a fast-moving world. Technologies, quality of raw material, new trends, and an increasing competition force you to make decisions in a very short time with few and exact data and information. This is the reason why we decided to be extremely vertical when we study the coffee industry and to analyse the only markets we have known for years: Coffee (R&G, Whole bean, Portioned, Instant/Soluble, RTD), Equipment for coffee  (Espresso Coffee machines, Filter Coffee machines, Liquid Coffee machines, Pod machines, Commercial Grinders), Machinery & plants for coffee processing (Roasting machines/ plants, Industrial Grinders, Dosing, Filling & Wrapping machines).
This high competence, built over years of experience, makes us very quick in delivery, calibrated in data information, and deep in our analyses. You can choose your target country, your product target (i.e. beans, pods, espresso machines, etc.) and the type of analyses you want we carry out for you.
Some reports are ready to buy in our store, but the added value of our experience is calibrating our analyses to your specific objectives. So contact us if you don't find what you are looking for in our store and we will tailor our analysis to your needs.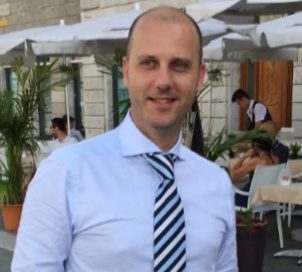 Research Manager
Mariano Peluso, our research manager, leads a team of analytics, researchers, and experts of coffee market.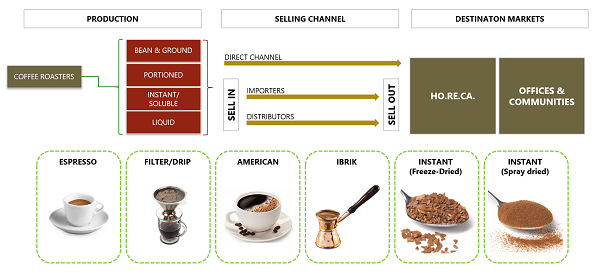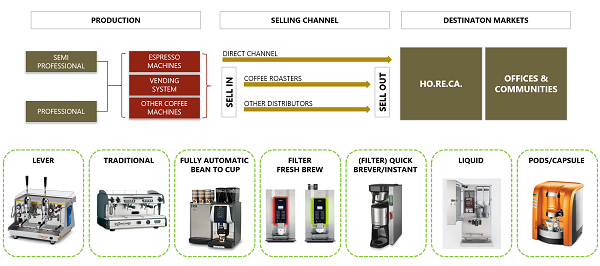 Look at the funnel in the image. You will see several levels of analysis. Choose your target level among the following ones: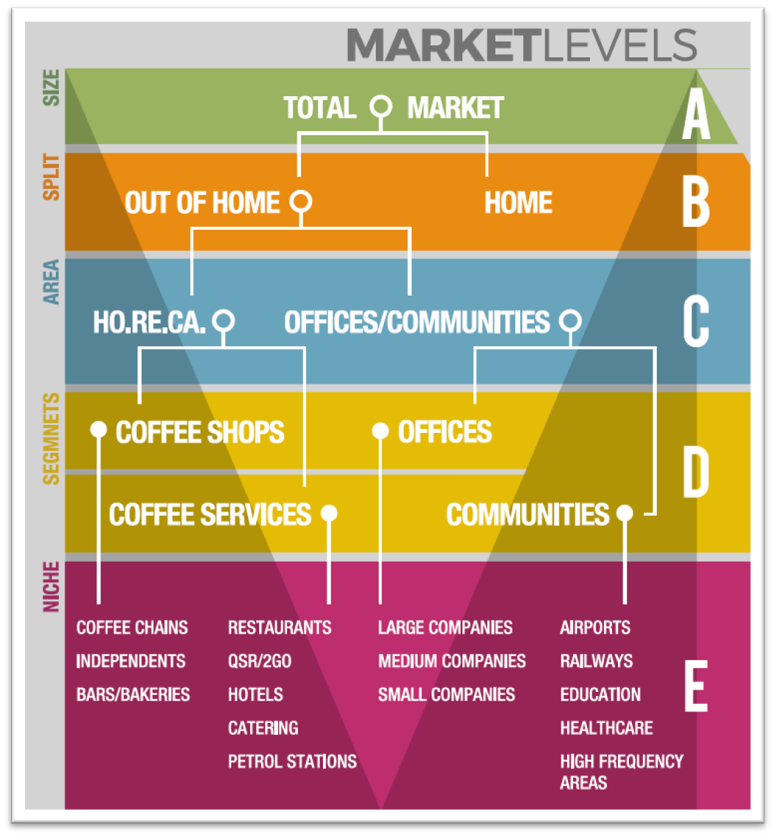 [A] Market Size: The coffee and/or coffee machine market in value and volume, an overview of the main changes in the markets, with the main trends of imports and exports.
[B] Market Split: The total market split between  Home (H) and Out of Home (OOH) markets in value and volumes.
[C] Market Area: The in-depth analysis of the Out of Home (OOH) segment divided into HoReCa and Office/communities.
[D] Market Segments: instead of the consolidated figures, with this option you receive a further breakdown for every segment.
[E] Market Niche: The market fragmented into micro segments, to get an unprecedented level of detail for coffee distribution.
From the coffee industry to the coffee industry, our reports go straight to key information without a huge amount of useless pages and repeated data. Find below three steps to ask for your tailored analysis
Turn your strategy from a passive to an active purchasing approach.
Purchasing of raw material is the first cost element of  the balance sheet of roasting and distributors' companies. Price fluctuations could be important, since the historical minimum of 1 euro per kg from 2003, went up to 4,5 in 2010. Consequently, companies usually buy the quantity they need for production in a continuous manner or, to stabilise the price, buy future contracts.
This passive approach is certainly safe but this is a sort a condemnation to compete in market only in the field of the operative costs.
But as the added value in the market is not high, the price competition erodes your margins if you are not particularly able to differentiate your product in terms of having a particular premium price. 
So, how to try to speedily regain margins? Buying raw material at a lower price than the competition does. It means turning from a passive to an active purchasing approach, and this different approach could also generate millions of euros at the bottom line. 
CoffeeBI offers a service of personalised consulting to support you to make purchasing decisions and be an active subject on the market. The service is based on an annual fee.
Competition & Shares Reports are highly customised analyses with several levels of depth for products and a breakdown for total shares, based on business type (HoReCa and Office).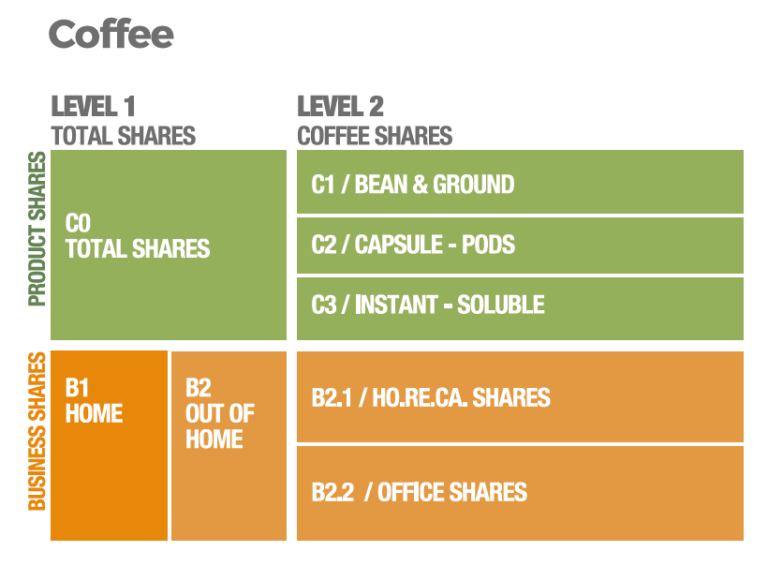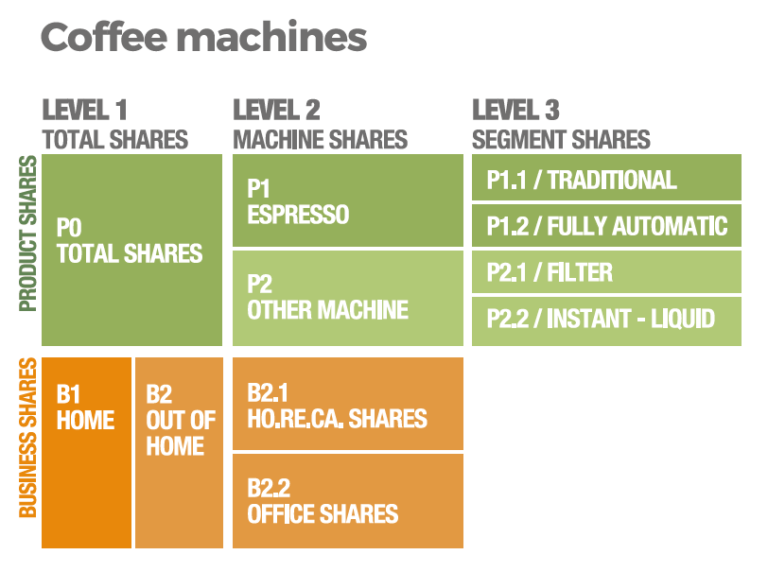 Our consultants will support you analysing the competitive scenario basing on your needs and objectives, and they will assist you before and after your purchase. Our clients recognise us the excellent service and the ability to help them reaching their objectives.
From the coffee industry to the coffee industry, our reports go straight to key information without a huge amount of useless pages and repeated data.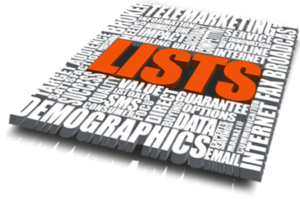 CoffeeBI provides lists of companies with address, phone numbersm and further tailored information about:
Coffee shop chains,

Foodservice,

Hotels,

Coffee machine manufacturers,

Grinders manufacturers,

Coffee brands,

Etc.
Market size and competition - Methodology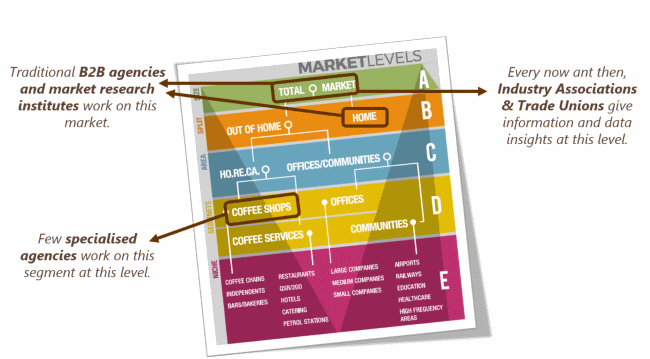 CoffeeBI analyses include data and values that come from an extensive usage of both primary and secondary data sources, calculated according to in-company elaborations of production, export and import by countries, the study of various factors affecting the industry, including the government policy, market environment, competitive landscape, historical data, present trends in the market, technological innovation, upcoming technologies and the technical progress in the coffee industry, market risks and opportunities, market barriers and challenges.
The data on market dimensions, segments, and trends are calculated according to in-company experience and knowledge of markets based on our internal database, qualitative interviews, dimensions of out of home markets, and other local or international sources:  International Coffee Organization (ICO), Eurostat, local coffee associations, and other sources.
Information on companies (business profiles, strategies, and market shares) are collected by public sources (annual reports, companies information) and interviews (face to face or by telephone). Information is collected also through deep qualitative interviews with coffee industry experts, market leaders, sellers, and associations.
Last but not least, the data from the coffee market are double checked with data coming from the equipment markets (above all coffee machines) and vice-versa. What makes us different from our competitors? Take a look at the segments where our competitors operates and the ones where we are leaders.
Phone number:
+39.02.80887843
+44.(0)20.35298238