Tailored analyses for the coffee industry
MARKET SIZE
CONSUMER INSIGHTS
COMPETITION & MARKET SHARE
MARKET SIZE
Working with data in the out-of-home market of the whole coffee supply chain means entering the specifics of a country and going deeper into the analysis of each segment.
This is the reason why it is really important to start by specifying the country and go down step by step, basing on "level" of details (according to our top-down methodology).
Look at the funnel in the image: you can see several levels of analysis. Choose your target level among the following ones: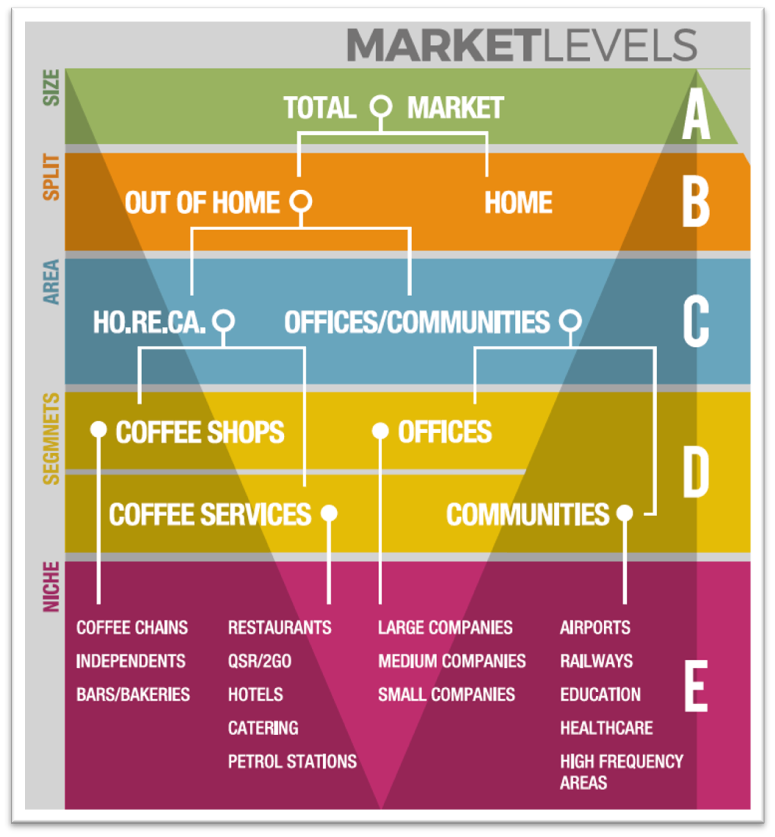 [A] Market Size: The coffee and/or coffee machine market in value and volume, an overview of the main changes in the markets, with the main trends of imports and exports.
[B] Market Split: The total market split between Home (H) and Out of Home (OOH) markets in value and volumes.
[C] Market Area: The in-depth analysis of the Out of Home (OOH) segment divided into HoReCa and Office/communities.
[D] Market Segments: instead of the consolidated figures, with this option you receive a further breakdown for every segment.
[E] Market Niche: The market fragmented into micro segments, to get an unprecedented level of detail for coffee distribution.
CoffeeBI methodology is top-down: starting with a country's scenario, macroeconomic dynamics, trends of the main indicators, import-export of coffee as well as machines and transformation of coffee for both the local and foreign markets.
CoffeeBI analyses include data and values that come from an extensive usage of both primary and secondary data sources, calculated according to:
1) In-company elaborations of production, financial statements, sales data;
2) Export and import by countries;
3) Current market trends;
4) Upcoming technologies and the technical progress in the coffee industry;
5) Market risks and opportunities;
6) Market barriers and challenges;
7) CoffeeBI internal database;
8) Qualitative interviews with managers and opinion leaders in the coffee industry;
9) ICO bulletins, Eurostat, Trade associations, etc. 
Information on companies (business profiles, strategies and market share) are collected from public sources (annual reports, company information), interviews (face to face or by telephone), deep qualitative interviews with coffee industry experts, market leaders, sellers, and associations.
CoffeBI calibrates the collected data with a set of interviews (on the phone or face to face at trade shows) with industry operators and opinion leaders (experts who have been working in the coffee trade for decades) who collaborate with CoffeeBI's editorial team. In addition to this, being a partner of various trade magazines, we have a constant influx of information which is always fresh from the various markets. Last, but not least, we always double check the consistency between the information flow of the coffee sector and that of coffee machines. In order to get the best results for these analyses and achieve time/cost savings for the investment, CoffeeBI offers a modular approach that separates the market analysis (which requires information to be collected and processed within a limited period of time) and an analysis of competition (which  requires information to be collected through company interviews which requires  more time and is likely to generate additional costs). 
This enables CoffeeBI to have an overview of the market at levels A (general market) and B (Away from home). Furthermore, in a granular way, CoffeeBI breaks down the data and repeats the same procedure for each sub-segment, double-checking them with data based on the dynamics of the individual segments and sub-segments (number of bars that open and close in the country, hotels by category that open and close, offices, etc.), and data on consumption, employees and trends. This enables  CoffeeBI to obtain the levels D and E. Once deconstructed, the data is reconstituted to make level C and a double "bottom-up check" from level E to A, and from A to E. The prices are all sell-in prices for coffee and ex-factory prices for coffee machines.
Thanks to this methodology, we can adapt the categories based on our clients' definitions of the required categories. This also explains why CoffeeBI's data only takes a short time until it is ready, it goes straight to our client's objectives and it can be calibrated according to the customer's specific needs.
CONSUMER INSIGHTS
COMPETITION & MARKET SHARE
At CoffeeBI we tailor our analyses to your exact needs, defining with you scope and criteria of the clusters that are functional to your business objectives.