Tea & Coffee World Cup 2018 To Be Held In The UK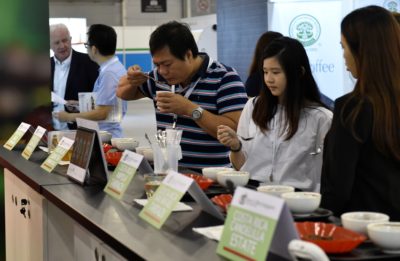 For the first time ever, Tea & Coffee World Cup will be giving companies access to the UK tea and coffee markets. After the successful 2017 show in Singapore, a survey was sent to the industry and the UK emerged as the clear winner for the 2018 location. The event will be held 3-5 September 2018 at the National Exhibition Centre (NEC), the UK's number one venue of choice for exhibitors and visitors alike, in the vibrant city of Birmingham, UK.
As the stereotypical 'nation of tea drinkers', the tea industry has always boomed in the UK, with around 60.2 billion cups being drunk every year. But it's not only the traditional brands – the popularity of fruit, herbal, spiced and green teas and tisanes have increased dramatically.
And the UK has also enthusiastically adopted the café culture, with coffee shop visitors purchasing an estimated 55 million cups of coffee per day. Coffee pours a huge £8.9 billion into the UK economy and last year alone saw a further 1,222 coffee shops open – an average of 3.4 new stores a per day.
Tea & Coffee World Cup is a three-day international trade show, which incorporates a conference and educational workshops such as coffee-roasting classes, professional coffee & tea cupping classes, sensory classes and many more. From the same team as the internationally-renowned Tea & Coffee Trade Journal, the show has been forming and retaining customer relationships for 23 years.
The event features working machinery on the show floor, both raw and finished product for sampling and stocks of industrial supplies for detailed inspection. As always, highlights will include innovations in the industry including roasting machinery, tea bagging and packaging equipment. The conference and workshops are designed for participants to gain personal and hands-on experience, optimising use of supplies and sampling products.
'Catching up with friends from around the world that are passionate about coffee and tea makes the exhibition one of the real highlights of the year'– Leon Skaliotis, Flavourtech
Interesting content? Share it with your colleagues