Coffee Price Goes Up on Brands Like Dunkin' Donuts And Folgers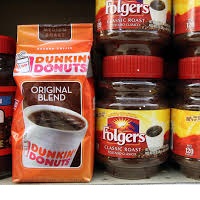 According to a recent post published by fortune.com coffee price is going up 6% on brands like Folgers  and Dunkin Donuts. The reason cited behind the price hike of packaged coffee sold in the US by The J.M. Smucker Co, is the  increase in the prices of green coffee.
Arabica coffee futures were hitting their highest in a period of around six weeks after prediction was made by a major Brazilian coffee exporter for the coffee crop yield for the year 2017-18 to remain low.
Smucker, the company that is licensed to make packaged coffee for Dunkin' Donut ,dropped the retail prices on Folgers and Dunkin' Brands Group Inc's Dunkin' Donuts coffees by 6 percent last June when the coffee supply was going good from Brazil. Despite the recent hike the company announced that the prices of their K-Cup pods will remain un-affected.
Writer and content contributor for international magazines and websites.
Nida has been writing professionally for CoffeeBI since March 2016.