Norwegian Røst Coffee Roaster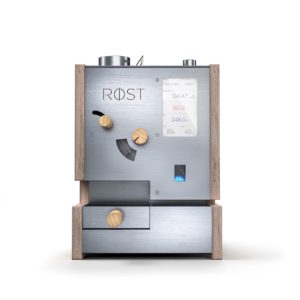 According to dailycoffeenews.com, one of numerous inventions that were presented at the World of Coffee event in Budapest is the Røst Sample Roaster, a new machine which was designed and created in Norway. RØST is the elegant roaster that won the prize for the Best New Product in the Technology category.
Combining innovative design and technology, Sverre Simonsen and his brother Trond Simonsen invented the Røst Coffee Roaster, a stylish machine with a single-exhaust ventilation system, low noise level and a touch-screen interface for automatic or manual roasting to meet the increasing demand for quality roasting.
Inside of the drum a custom propane burner heats air which in turns heats the beans, while the drum keeps them in motion. RØST is especially proud of a ventilation system for a smoke free indoor environment,  fully automatic profiles which will do all the work for you and a wireless recording and monitoring of each roasting.
At first, the idea was to design a 1 kilo capacity roasting machine, but once Tim Wendelboe and Morten Wennersgaard saw their prototype, they challenged Sverre and Trond to design a better professional sample roaster. After they got the support form Norwegian state-owned development bank Innovation Norway, they answered the challenge and manufactured the prototype six months later.
Now they are working on their first production for the customers, and it should be ready by the end of October for the European market.
The possible price will be approximately $5800, and the brothers will not stop there. They are planning to use their technology for further development not only of the Røst sample roaster, but of various other products.
Graduated in Philosophy, Sladjana has a master degree in English language and literature. She has worked as an English teacher in various schools in Vranje, as a translator, proof-reader and writer for "Profit magazine" which issues texts about economy, successful people, companies, and marketing. Since June 2017, she has been writing for CoffeeBI as a reporter from Europe.
Interesting content? Share it with your colleagues