Starbucks Growth Plan Includes New Upscale Cafes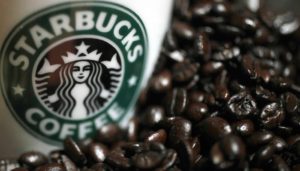 Starbucks new growth plans include increasing the number of its new upscale cafes around the world as reported by businessinsider.com.
Starbucks' new Reserve stores aim to capture the feeling of the Roastery and they will offer Princi's food. Starbucks hasn't revealed exactly what Princi items will be available at Reserve stores, but they have promised that pizza, sandwiches, and spirits will be on the menu.
By the second half of 2017, the company aims to open its first Starbucks Reserve store in West Loop, Illinois and a second one in Seattle according to the same source.
Eventually the company has a target of opening 1000 more of such cafes around the world. 20% of around the globe cafes will get an additional Reserve Bar under the new growth plans that will enable them to serve small-batch more unusual coffees from around the world say businessinsider.com.
The company already has a luxurious location at Seattle; Starbucks' Seattle Roastery that is often referred to as "Willy Wonka of coffee". Same style of the Seattle's luxury coffee bar is to be adopted for the new targeted cafes. Additionally the company has plans to open 20-30 roasteries as well.
"Premium and upscale" Reserve stores will have "all the bells and whistles as a Roastery," said senior vice president of creative and global design at Starbucks, Liz Muller  according to businessinsider.com.
Writer and content contributor for international magazines and websites.
Nida has been writing professionally for CoffeeBI since March 2016.
Interesting content? Share it with your colleagues