Café Culture in Coventry, UK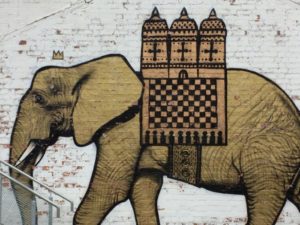 Coventry is a welcoming city, a changing city, and a city full of culture –  it has submitted a bid to be the UK City of Culture 2021. When you think of café culture, Coventry probably isn't the first city in the UK you think of, but like most cities across the UK, there is a thriving and growing café culture; one that's changing all the time too.
While Coventry doesn't necessarily have a huge range of the so-called 'third wave' coffee shops, it had an incredibly rich variety of cafés across the city, from your local café where you can guarantee a great breakfast, to coffee houses which have their own blend of coffee, to social enterprises who use profits to fund charity activities. Cafés are important social hubs in cities and communities. Cafés both in the city centre, and out towards the suburbs act as important places for people to meet, work, and socialise.
This is a map of most of the cafés in Coventry – it includes both independent and chain cafés, and has sought to represent the diversity of cafés that are present in Coventry. If I have missed one that you think should be on the map, do get in touch!
From the map there are plenty of places to visit. How you feel about cafés and what they offer is quite personal; different people want different things from a café (at different times, and on different days), so you really do have to try them to find out what you like. Here are a few highlights:
Kahawa Café (on Union Street). Many people have their 'local' café, and for me this is Kahawa. I discovered this place via a conversation on Twitter not long after starting to work in Coventry, and since then its become my usual pit stop, at first for a break from work, and more recently when on maternity leave to take a break with my daughter. The coffee and service here is excellent, they have a broad menu of drinks, and their own blend of coffee which you can buy to drink at home too. I have yet to find a vanilla latte that can beat the one from here. But more importantly, I can always guarantee a friendly welcome, which for many people is what they want when they are visiting a café.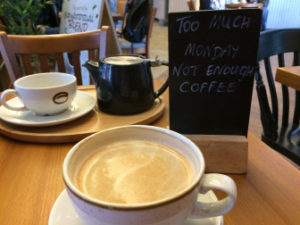 Finney's Coffee Co opened in 2016 and has become a popular spot in the city, with both indoor and outdoor seating, it provides  a bit of street café culture to the city. Serving Union Coffee, they have information cards about the coffee they serve on the table, so for those where the coffee origin is important, this is a good place to try.
The Rising Café, based in Coventry Cathedral, is often listed at the top of cafés in Coventry on trip advisor. The café is a social enterprise where profits go directly towards the work of the charity Betel.  The 1940s' theme goes through from décor to the menu, where dishes range from the Clark Gable salad, to the Rising from the Rubble sandwich.  They have a broad menu of food and drink, and have a very popular afternoon tea option.
Fargo Village, often mentioned as the 'Camden of Coventry', is a great place in the city, a creative quarter with a range of independent businesses brought together in one location. It has been home to cafes such as Urban Coffee Company in the past, but there are others here which are worth visiting including: Spangles, an American themed cereal café, deli diner & shake bar that has become well known for its Freakshakes; Bubble Boba a bubble tea and milkshake bar; and the Big Comfy Bookshop, an independent book shop which also served tea, coffee and cake (and recently won the What's On Best Independent Coffee Shop in Coventry & Warwickshire award) which is expanding soon.
Ed's Coffee, is stall in Coventry Market, not a café – although you can get filter coffee 'to-go'. It's an important feature for Coventry though as it is one of the few places where you can buy a range of coffee beans (and have them ground to your requirements) and coffee brewing equipment. Coventry market is one of the highlights of the city, a fantastic place to buy fresh food and other goods, and definitely one of the friendliest places I visit in the city. I've tried a few of the coffees from Ed's, a particular favourite is the Papua New Guinea beans, but the Kenyan beans ground for aeropress were great too.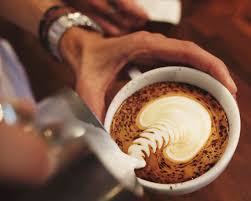 As in most cities there is a strong presence of chain cafés across the city – and they make a great contribution to the city too – from the often friendly staff, to the outside seating to take advantage of whenever the sun decides to make an appearance. There are numerous Costa Coffee's and Starbuck's in the city centre, and in the retail parks around the city, and one Caffe Nero store in the city centre. The Caffe Nero store has a particularly interesting location in the Lower Precinct Shopping centre, it is a round café which essentially acts like a giant fish bowl, and is great for sitting above the busy hustle of the people below. Like in most of the cafés in Coventry, the staff there are incredibly friendly which always makes the place feel welcoming – and they have fresh pastries too!
A chain which appears to have a growing presence is Esquires Coffee; it  has a couple of locations in Coventry – one in the West Orchards shopping centre, and another in the Coventry Transport Museum. Aside from the food and drinks, the branch in the transport museum holds various events too, such as Coffee and Board games,  a baking club and even a Comedy Night – a great example of how cafés can develop into community hubs.
Café culture in Coventry is not confined to the city centre, there are places spread around the city from the Mocha Lounge in Allesley Park to Conroy's in the Memorial Park. In particular, Earlsdon has a collection of independent cafés:  Zafiri's is a great place with a broad food and drinks menu (the milkshakes are definitely worth trying), as well as Millsys, Kendall's and the Juice House. There are new places opening in Coventry too, and the most recent addition in Earlsdon is Myrtles Coffee. Despite only opening in May 2017 the place seems to be very popular, and it's easy to see why. The place is welcoming, with very friendly staff, a great selection of cakes, and excellent coffee. They had an interesting food menu too. A fantastic new addition to the cafés of Coventry.
Each of these places adds to the café culture of Coventry in a different way, through the spaces they offer for people to visit, socialise, work and spend time. They all do things differently, offering a variety of food and drink, seating arrangements, and events. Coventry may not be the first place you think of when you hear about café culture, but like many other cities across the country, cafés in Coventry act as spaces of community. In this city there are plenty of these friendly café spaces whether you need a caffeine fix, a place to meet your friends, or  a place to sit and contemplate life while the world goes by.
If you know of a great café in Coventry that isn't listed, or hasn't been mentioned here, do get in touch – its always great to find new places – and I hope the growing cafe culture in Coventry continues.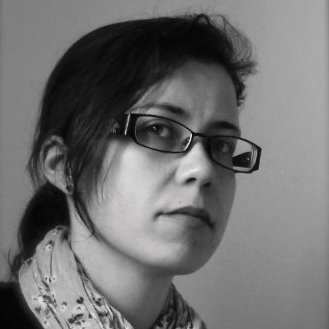 Jennifer is a researcher in the Centre for Business in Society at Coventry University and her research interests focus on the coffee and café industry. She researches how the café industry has developed in different national markets, different business models within the café industry, and the role of cafes in different urban spaces. In particular, a current project, 'Spaces of Community' explores the economic impact of cafes but also the importance of cafes for different communities and cultures considering how and why cafes have developed, what roles cafés play in communities, how cafes spaces are used, and the ways in which cafes engage with their local communities. You can read more about her research on the 'Café Spaces' research blog.