Exploring Coffee and Cafe Culture in Portugal
Coffee culture is ingrained in the everyday life, culture and history of Portugal. The Portuguese were crucial actors in expanding the coffee industry into what it is today with Portuguese colonists introducing the coffee plant to Brazil. There isn't space here to explore the rich history of Portuguese coffee culture, but I will write about this more at some point soon.
Drinking coffee in Portugal is an everyday part of life, with cafés found almost on every street, and espresso being the most common drink.  Coffee is significantly cheaper to drink out of the home, than it is in the UK. An espresso wouldn't usually cost you more than € 1 and in most cases is closer to € 0.50. If you ask for a coffee (um café) an espresso is what you'd be served, although there are regional variations for different coffees too. If you were in Porto and wanted an espresso you'd order um bica, while in Lisbon you'd order um cimbalino (named after the La Cimbali espresso machines).
They have a range of coffees with milk in too – I often have um pingo (an espresso with a dash of milk) or uma meia de leite (around half coffee/half milk – the closest thing I've had to a latte). There are actually a wide range of variations of the espresso based drink, some of which are explored on the Salt of Portugal and Emma's House in Portugal blogs.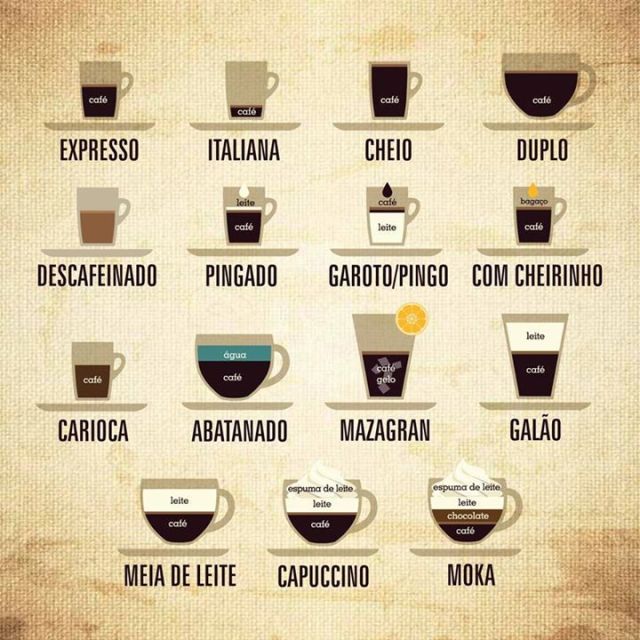 Cafés in Portugal are literally everywhere, not just in your retail centres but spread throughout the neighbourhoods too, even in the most remote places. Often cafés will have a branding for the coffee they serve somewhere on the outside such as Delta, Nicola, Sical, Buondi, or Café  Brasileira. These types of traditional Portuguese cafés often have a range of baked goods served there as well. My favourite café in Portugal is just a small café at the base of a block of flats in a residential area. Actually, I don't really go there for the coffee, I go there for the croissants, freshly baked – one thing you'll notice in Portuguese cafés is that the range of cakes and pastries usually makes the options from Costa/Starbucks look pathetic (it's not just about pastel de nata in Portugal)!
The long history of cafés in Portugal means like in many European cities there are some cafés which have a long history:
Café Nicola in Lisbon an art deco style which opened in the late 18th century, and to its current location in 1929.
Botequim in Lisbon was opened in 1968 by the Portuguese writer Natália Correia.
A Brasileria in Lisbon opened in 1905, and is famous for being frequented the Portuguese Poet Fernando Pessoa.
Café Guarany in Porto, opened in 1933 (and underwent restoration in 1994), and according to the website was known as the musicians coffee shop. In addition to the food and drink, they do hold music events including traditional Fado music.
Café Progresso in Porto was founded in the early 19th century.

Café Majestic in Porto, opened in 1921 and is considered one of the most beautiful cafes in the world. Opened in 1921.
When I first started to look for cafés to visit in Portugal, most of the 'top cafés in Porto/Lisbon' would feature these kinds of cafés which were important landmarks in the city. However, things have started to change, with the emergence of a wider range of café types becoming popular particularly in the larger cities.
These two lists of cafés that are 'good to read in' feature quite a few interesting spots:
Starbucks have around 10 branches around the Lisbon region, while Costa Coffee have a couple of branches around Porto and the Algarve. The coffee shop chain in Portugal I found the closest to these types of coffee shops was Armazém do caffè which has branches across a broader spread of the country, compared to the other chains (see below).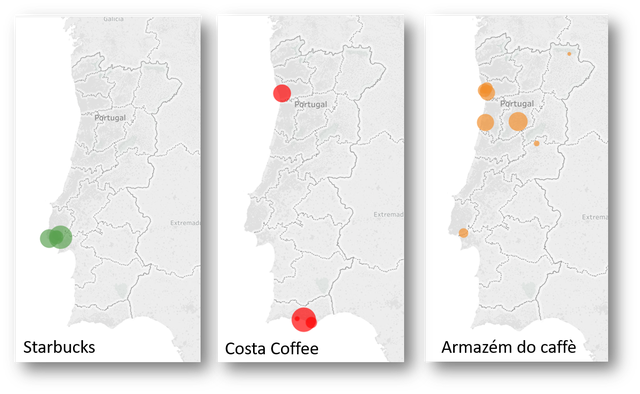 Then in one of my last trips to Porto I discovered Moustache near Clérigos Porto which seemed much closer to the Starbucks type of coffee experience than in many Portuguese cafés. The menu includes the range of coffees plus Frappuccino type drinks, as well as a range of baked goods, including natas, of course! The coffee I've had here though is definitely better than most chain coffee shops I have been to and what I liked about this place was that it sought to engage with its community in different ways, holding various events in the café space.
The concept of working in cafés is not new, however with the rise of more freelance work and the 'gig economy' many people are turning to cafés as places to work from. I have written a bit about working and co-working in cafes from a UK context, but even in Portugal it has been acknowledged that there is a demand for places for people to work from outside of the office. Portoalities provides a guide to the best cafes to work from in Porto (and if you're interested a list of co-working offices too).
Specialty Coffee in Portugal
There are a growing range of cafés in Portugal, with more independent cafés and specialty coffee shops that focus not only on the type of food and drink they serve, but the aesthetic of the café too. It's not until recently that specialty coffee shops have made much of an appearance, but the specialty coffee scene does seem to be gathering pace. Brian from Brian's Coffee Spot visited last year and tried out some of Porto's new additions including BOP and Mesa 325 in Porto:
BOP a café bar where there is a brew bar, and the coffee used is from Vernazza. More than a place which focuses on coffee, it also has a passion for music and there are record players for you to listen to the large collection of LP's they have behind the counter. They also have a pretty good menu if you're looking for food too!
Mesa 325, who also use Vernazza, and in addition to the brew methods for making coffee also serve Vietnamese coffee which I don't think I've seen anywhere else in cafés in Porto.
These are both excellent examples of the new types of coffee shops appearing in Portugal, but the specialty coffee presence in Porto goes well beyond these two places. Oporto Cool explores 12 cafés which provide more than a place to get your espresso hit – from the specialty coffee shops that focuses on brunch and cocktails too (Zenith), to the 'coffee garden' combining specialty coffee and health food (Noshi Coffee) which opened this year. Fraulein Anker has written a Porto Hipster coffee guide too.
There's plenty of activity too in the capital city Lisbon with the Copenhagen Coffee Lab being one of the best known specialty coffee spots in the city bringing a bit of Nordic coffee culture to the city. There is also Fábrica Coffee Roasters a café and roaster, now with two outlets and according to their website a coffee truck coming soon. Like Porto, more specialty coffee shops are emerging such as WISH slow coffee house and Montana Lisboa as highlighted by Matous Vins on European Coffee Trip.
And in Lisbon, the combination for coffee and cycling, that we've seen here in the UK, has a presence too in the BI-CA Sandwich Cafe, where you can also hire bicycles here (in Porto for a combination of bicycles and coffee there is the Urban Cicle Café).
Following the trend of having coffee shops in flagship stores as has been seen recently in London and other major cities (e.g. the pop up coffee bar by Has Bean roaster in the clothing store UniQlo), The Feeting Room, a footwear and cl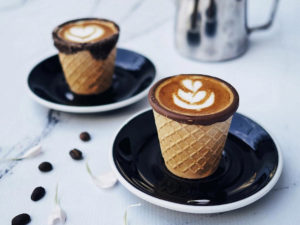 othing store in Porto now has its own coffee shop. 'The Coffee Room', located on the top floor  is a specialty coffee shop dedicated to third wave coffee culture, which serves coffee (single origin Guatemalan from a roaster in Porto according to this article from Evasoes), and panoramic views of the city.
In terms of following other coffee trends, it appears that Portugal has also taken on the coffee in a cone concept in a series of Delta Q stores in Lisbon and Porto.
The majority of these new cafés that are embracing specialty coffee, or a more third wave style of coffee shop tend to be in the city centre, targeting young urban audiences and tourists too. It will be interesting to see if these start to spread out into some of the neighbourhoods too over time.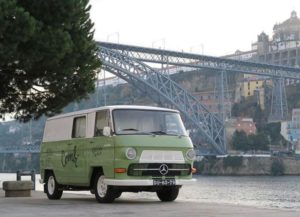 An exception to this at the minute would be Combi Coffee which is actually a coffee truck which can be found in various locations, but often near the beaches of Espinho, just south of Porto. This article from the Coffee Universe suggests they will have a coffee shop in Porto at some point soon as well. Here the founder of Combi Coffee explains: "Portugal is a place where coffee and espresso are synonyms, so all the Portuguese care about is a full bodied creamy espresso shot regardless of the origin or variety of the coffee beans. We are actively trying to change that. Slowly but steadily." (Coffee Universe, 2016)
In my research I'm interested in all types of cafes, from the historical landmarks of the city, the traditional corner neighbourhood café bakery, to the specialty coffee shops.  It would be interesting at some point to map the different types of cafés in Portugal to see the extent of the café into Portuguese communities, and how these differ across the country.
If you know of a café in Portugal that you find is an important place or interesting space, then do get in touch.
Coffee Roasters
Roasting coffee in Portugal is not a new concept, the large coffee companies such as  Delta or Sical have been present for decades, but specialty coffee roasters are more scarce. Although much like the specialty coffee shops, more roasters are emerging too. I've already mentioned Fabrica Coffee Roasters in Lisbon but a couple of others worth exploring too are:
Vernazza Coffee Roasters, based in Maia and established in 2015, now has coffee in many of the emerging specialty coffee spots around Porto as well as restaurants too. The owner of Vernazza recognises that specialty coffee is not yet a widespread commodity in Portugal yet: it's part of our strategy to be a specialty coffee, and to be placed together with nice things and places, where there is the concern with the detail; we know we are not a coffee for the masses . According to this article Vernazza hopes to have its own café in Porto at some point.
Luso Coffee Roasters based just south of Porto, has a range of coffees including the Viriato Blend which is roasted to 'have the notes of a traditional Portuguese espresso'. I wonder if this could be the way to entice more Portuguese consumers to specialty coffee? In an article from the Coffee Universe the founder of Luso Coffee Roasters acknowledges the barriers for the specialty coffee market in Portugal, in particular the price of coffee, but highlights that increased tourism is providing opportunities to open new cafés and there is a rising curiosity about specialty coffee.
Portugal is a country with a long coffee history, and the café has, and remains to be, an important place in communities across the country. But like many other countries, the coffee culture is changing, and with it the emergence of different types of cafés, and coffee businesses are emerging. As has been noted by the Perfect Daily Grind Portugal is 'embracing third wave culture with enthusiasm and vigor' but will Portugal ultimately see a widespread shift from its traditional espresso culture, or will the specialty coffee remain a niche market catering to young urbanites and tourists? Only time will tell and from a research perspective, it's fascinating to explore. If you know of a new or interesting café or coffee roaster in Portugal that I haven't mentioned here, please do get in touch.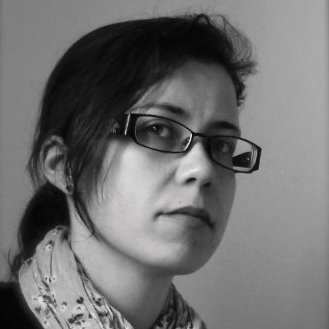 Jennifer is a researcher in the Centre for Business in Society at Coventry University and her research interests focus on the coffee and café industry. She researches how the café industry has developed in different national markets, different business models within the café industry, and the role of cafes in different urban spaces. In particular, a current project, 'Spaces of Community' explores the economic impact of cafes but also the importance of cafes for different communities and cultures considering how and why cafes have developed, what roles cafés play in communities, how cafes spaces are used, and the ways in which cafes engage with their local communities. You can read more about her research on the 'Café Spaces' research blog.