HostMilano: Nine New Entries Amongst the Participating Countries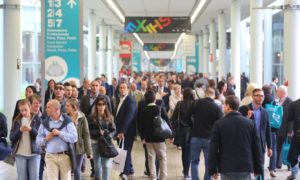 The progressively international nature of HostMilano, which will see 55 different countries being represented on the opening day, is substantiated by eight new entries – Belarus, Egypt, Lichtenstein, New Zealand, Serbia, South Africa, Sri Lanka and the Ukraine – which will be taking to the stage for the first time, while Canada will be back following the 2011 edition. Excluding Italy, Europe will boast the largest number of companies (73.5%), with Germany, Spain and France topping the list, followed closely by the USA, the United Kingdom, Switzerland, Greece, the Netherlands, Portugal and Austria.
As regards the product categories represented by the companies, the Foodservice Equipment and Bread Pizza Pasta macro-sector equates to 45.7% and is also the most heavily represented with 729 participants. The other two macro-sectors are as follows: Coffee Tea – Bar Coffee and Vending Machines – Gelato – Pastry (36.5%) and Furniture and Tableware (17.8%).
 1,500 buyers from all over the world will be in attendance
Selected owing to the growing investment in profiling and the ever closer collaboration with the ITA (Italian Trade Agency), there will be over 1,500 hosted buyers arriving from Europe (10%), the Mediterranean and South Africa (7%), the Middle East (15%) Northern America (23%), Central and Southern America (8%) Russia (18%), Asia and Oceania (19%).