The Kaffikaze Coffee Festival is Coming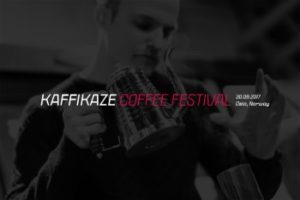 The Kaffikaze Coffee Festival is being organized by Kaffikaze, the agency which has been organizing various competitions in Norway. This festival will take place at the Vulkan Arena in Oslo, the capital of great coffee hubs and the top quality coffee with the Scandinavian light roast style, on the 30th September 2017 and it is the first coffee festival there, with the aim to show what kind of coffee treasures there are in Oslo.  The festival will consist of two parts: Taste and learn during the daytime and Social and party during a nighttime.
Tastings with voting for best coffee, classes, and lectures will be accessible to the audience during the day. The main lecturers will be the Norwegian coffee elite: Talor Brown, the founder and roaster of Talor & Jørgen, Rory Rosenberg, Norwegian Barista Champion and co-founder of Oslo Cold Brew, and Odd-Steinar Tøllefsen, 2015 World Brewers Cup Champion and co-owner of Supreme Roastworks, as well as many others. People will be given the chance to taste hand brewed coffee, batch brewed coffee, iced coffee, cappuccinos, coffee soft ice, coffee beer, coffee cocktails, to try different coffee gadgets, participate in numerous coffee competitions, and so much more.
During the night, the Norwegian AeroPress Championship will be the central event and the winner will earn a free trip to compete in the World AeroPress Championship in Seoul, South Korea. The coffee brewers from Oslo will compete against more than 60 other National winners for the best coffee brewing method. For those who do not compete, there will be the concert of DJ TBA, coffee cocktails, beer tasting and food. It is only for people older than 20.
Graduated in Philosophy, Sladjana has a master degree in English language and literature. She has worked as an English teacher in various schools in Vranje, as a translator, proof-reader and writer for "Profit magazine" which issues texts about economy, successful people, companies, and marketing. Since June 2017, she has been writing for CoffeeBI as a reporter from Europe.
Interesting content? Share it with your colleagues