A New Portable Coffee Grinder/Flashlight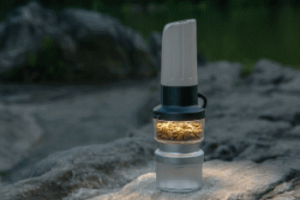 According to dailycoffeenews.com, the Lume has recently surprised all coffee-loving hikers and campers, by offering them a portable burr grinder which can be used wherever and whenever they happen to be, preserving coffee quality even if the amount of coffee for 50 cups can be grinded. It is the lightest auto-grinder on the market, only the size of a bottle and 22 ounces weight. However, what makes it special is the fact that it provides plenty of light to read or light the way in the middle of the night. So, it is a coffee grinder that is also a flashlight. With a full battery, it has the ability to handle about 20 hours of illumination with one single charge. It can also work when plugged into another power source such as the wall, a car charger or a portable power bank.
This multi-use tool can produce the grounds which can be adjusted for size, from extra coarse to extra fine, without losing their perfect flavor. The adjusting screw at the bottom of the grinder is used to adjust ground size.
The Lume recently surpassed its Kickstarter goal, illuminating the path to production. The device is available in different color styles that buyers can choose from, including green, grey, and rose quartz. The product has many benefits; it is effective, and the campers finally have the opportunity to enjoy in a fresh cup of coffee while on the go.
Graduated in Philosophy, Sladjana has a master degree in English language and literature. She has worked as an English teacher in various schools in Vranje, as a translator, proof-reader and writer for "Profit magazine" which issues texts about economy, successful people, companies, and marketing. Since June 2017, she has been writing for CoffeeBI as a reporter from Europe.