The Winners of The Intergastra Innovation Prize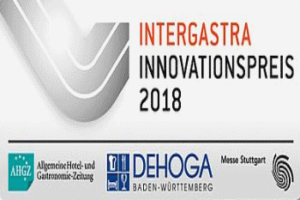 The gastronomy and hotel sector keeps reinventing itself with original ideas and concepts. A top-class, thirteen-person specialist jury has selected the winners of the Intergastra Innovation Prize from all the promising innovations entered in the categories Quality Assurance and Economy, Design and Function, IT Solutions and Kitchen Technology. Evaluation was based on criteria such as degree of innovation, practical significance, user-friendliness, sustainability and economy of use and implementation.
The winner in the category Quality Assurance and Economy is Flowtify. This digital system facilitates paperless hygiene and quality management, and supports continuous documentation in the web-based documentation and evaluation. Users benefit from a faster information flow, automated input options and digital archiving of checklists in the cloud.
In the category Design and Function, the Pure from Echtermann was successful. This sensor-controlled, multifunctional fitting for contactless dosing of water, soap and disinfectant combines three work processes in a single fitting and is ideal for all hygienic areas such as large kitchens, schools or kindergartens. The best part is that this fitting ensures water savings of around 70 per cent.
Code2order, a digital guest service system for hotels, won the prize in the category of IT Solutions. The system is available without problem on any end device and provides guests with important information and services in digital form, whereby no initial and follow-up investment in apps and respective hardware is necessary.
The winner in the category Kitchen Technology was the digital networking solution Connected Cooking, with which one or several Rational or Frima devices can be integrated into a network, centrally controlled and digitally administered. Thus, for example, push messages can be received in real time, device settings transferred and service partners automatically informed upon request.
The Innovation Prize presentation ceremony will take place during the official opening of Intergastra 2018. The prizes are awarded in cooperation with the Allgemeinen Hotel- und Gastronomie-Zeitung (sector magazine) and Dehoga Baden-Württemberg.