The HoReCa coffee market in China 2019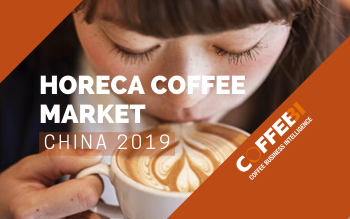 China is the current market leader in the purchasing of professional coffee machines in Asia. For a country that has traditionally been linked to tea consumption, this is an extraordinary result.
Recent years have seen a surge in coffee consumption that has grown to double digits. As with many Asian countries, the majority of coffee is consumed in soluble forms or in ready to drink (RTD) beverages. Also, fresh coffee or portioned/capsules are growing in popularity, in particular in the larger cities.
Despite popular belief, the Chinese didn't discover coffee only recently but already had a well-established coffee culture such as that in the Yunnan Province. Recently, due to the investments by large multinational companies, coffee has become popular amongst young middle-class people as well.
It is common to see people seated at coffee bars in the centre of the main towns drinking or waiting for their coffee order to arrive, socializing or carrying out business in a similar way to most European or American towns. In some ways, the coffee culture is more popular than coffee itself and large part of sales include non-coffee beverages like fruit juice or smoothies
Coffee houses are expanding rapidly. There are about 6,500 branded chains and further strong growth is expected up to 2020 with further new investment by the major players.
Read also "China And Its 'New Retail' Strategy For Coffee"
The entire hospitality industry is growing, thanks to the opening of the country to the market economy. Business and tourism are key drivers. Starred hotels, full service restaurants and workplaces are increasing. The primary source of revenue is the internal movement of people within China itself.