Cashless payment for vending machines? This is a new growing trend
Cashless payment for vending machines? For a long time, in order to pay for things one needed money – namely cash and also when purchasing products and goods from a vending machine.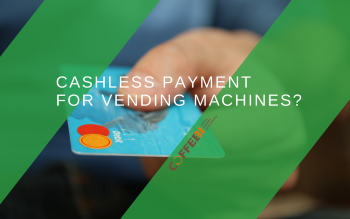 According to the German Vending Association (BDV), approx. 75 percent of all vending machines operate using cash and are thus primarily fed with coins. However, cashless payments is a trend that hasn't passed the vending industry by and has become more widespread in countries like Great Britain, the Netherlands, Sweden and Poland but less so in Germany.
Already 59 percent of Germans over the age of 16, find cashless payment systems practical or very practical when paying for snacks, beverages, cigarettes or travel tickets from vending machines using a girocard, as reported in a survey by the Allensbach Opinion Poll Institute.
Since 2018, the German credit sector has been enabling contactless payments using a smartphone. By the end of the year, 75 million contactless girocards will be in circulation. Owners of an Android mobile phone can also already pay using their smartphones thanks to Google Pay and a new alliance between Google and PayPal which will accelerate this development considerably.
The changing attitude of the Germans towards cashless payments can be used by both users and operators of vending machines to their advantage. Operating the machines becomes more efficient and more viable for the operator because change no longer has to be paid out, (and thus the provision and filling of the machines is no longer necessary). The banknotes and coin inventory becomes a thing of the past. And the risk of vandalism and theft is reduced, because there is no cash inside the vending machines.
According to Sielaff GmbH & Co. KG. "The increased implementation of connectivity leads to the operator being able to access his devices more easily. This enables him to react more quickly to the current market situation, i.e. through the flexible adaption of sales prices." This is a further advantage for vending machine operators. John Kolthof, Executive Director of CCV Easy, a brand belonging to the international CCV Group B.V., sees great potential for all types of vending machines that can be equipped with an electronic payment solution which make it possible to execute all types of payments. Current surveys show that consumers will spend much more if they are not limited by the coins they may or may not have in their pockets
Current trends and the potential of cashless payments for vending machines will attract a great deal of attention at euvend & coffeena 2019.