Starbucks Q1 FY17 Results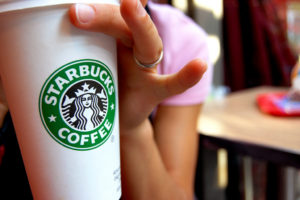 Starbucks Corporation's financial results for its 13-week fiscal first quarter that ended on January 1, 2017, were announced 26th January 2017 by various sources like nasdaq.com, wallstanalyst.com and cnbc.com.
Starbucks' combined revenues showed a 7% growth with a $5.7 billion net amount as compared to the last year. Main increase in revenue came from the overall 2,163 newly opened stores in the last 12 months. 3% increase in global comparable store sales was observed with 3% growth in America, a 5% growth in China and Asia Pacific region and 1% decrease in EMEA as reported by wallstanalyst.com.
The comparable store sales in US showed a growth of 3%, with 5% increase in average ticket and 2% decrease in transactions. Fixing the effect, new Starbucks RewardsTM loyalty program made on overall orders, average ticket grew 3% with transactions flat as compared to last year according to nasdaq.com.
Record Q1 combined operating income increased 7% to $1.1 billion. Record Q1 consolidated operating margin increased 10 basis points to 19.8%. GAAP EPS of $0.51 increased 11% over Q1 FY16 while non-GAAP EPS of $0.52 increased 13% over Q1 FY16 non-GAAP results as quoted by nasdaq.com.
Starbucks cards in US and Canada were loaded with record $2.1 billion in Q1. Showing a 15% growth year-over-year, the Card transactions by Starbucks are now 40% of U.S. company-operated transactions. Active membership in Starbucks Rewards also increased 16% year-over-year, reaching 12.9 million members in the U.S. as reported by nasdaq.com.
7% of U.S. company-operated transactions comprising of Mobile Order and Pay in the quarter is represented by Starbucks as compared to 3% the last year. Mobile Payment reached 27% of U.S. company-operated transactions. Moreover, the company opened 649 net new stores in the quarter as said by nasdaq.com making the total number of Starbucks stores globally to 25,734.
Scott Maw, CFO at Starbucks announced that the company is pleased with its record Q1 financial and operating results. He also acknowledged the efforts of more than 300,000 Starbucks partners around the world who work hard and proudly deliver Starbucks Experience to their customers.
Writer and content contributor for international magazines and websites.
Nida has been writing professionally for CoffeeBI since March 2016.
Interesting content? Share it with your colleagues