Starbucks Is Opening Self-Service Points in Russia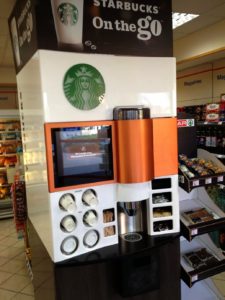 According to interfax.ru, Starbucks is launching a new format of coffee service in Russia. Ten Starbucks On the Go points will appear in Otkritie bank departments in Moscow by the end of March.
The format of self-service Starbucks stations exists in many countries around the globe. You can buy on-the-go coffee at gas stations, supermarkets, airports, etc. A local movie theater chain in the Netherlands is going to host coffee points soon as well.
Still in Russia such format is quite new, but one can already try it out in Karo Film movie theaters. A typical station includes an order desk with a coffee machine, an interactive screen and a bank terminal which allows to reach out to the clients everywhere, anytime.
Last December Starbucks announced that they were going to open twelve thousand new coffee points around the world in the nearest five years.