How New Technologies Impact Coffee Equipments? (Part 2)
Barista Drive System (BDS) from La Cimbali – Bluetooth communication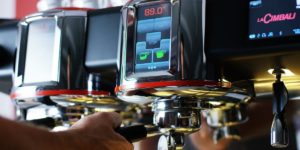 This tool implemented by La Cimbali in some of their machines and grinders allows facilitating the non-experimented barista work. Using Bluetooth connection, the professional espresso machine and the grinder(s) are able to modify the grinder(s) parameters in order to keep the initial settings for the "perfect cup", let say 25ml in 25 seconds. Every 5 shots, the grinder adjusts its settings (dose and granulometry) in order to stay within an acceptable range from initial conditions.
So, will this tool replace the experimented Barista ?
Not really. The Barista sets the parameters and check them over time. This tool is useful when no experimented baristas are present or when many different people have access to the equipments.
The use of Bluetooth connection to communicate between the espresso machine and the grinder(s) is very clever.
The only limitation, for the moment, with BDS is that you need a machine (M100, for example) without the pressure profile option.
Coffee and beverage expert, SCA Authorized trainer & certifier (Barista, Brewing and Roasting modules). Coffeologue training by Coffee Consulate in Mannheim. Consultant for coffee expertise for several international companies.
R&D and Quality manager, specialist in process optimization and global quality management (ISO22000, FSSC) with strong operational experience in Europe, Africa and Middle-East. Strong competences in project and team management (Black Belt Lean Six Sigma). I am working today in process optimization, starting with coffee pods/capsules production using DMAIC methodology. I am also very active for the overall training program within the SCA Swiss chapter.
My last successful project in the coffee industry is the creation of "L'Académie du Café" in Geneva where people can learn all aspects of the fantastic coffee world. All SCA modules, latte art and specific roasting and cuptasting trainings are now available. There is, today, a strong need to learn coffee like we learned wine and wine tasting in the past decade.
Expertises: Barista, Brewing, Roasting, Espresso, BlackBelt Lean Six Sigma, ISO22000:2005 FSSC, Beverage technology, Quality Assurance, Analytical chemistry, Sensory Analysis and Statistics, Quality Control, Coffee Technology, Flavour Microencapsulation.
Interesting content? Share it with your colleagues