Starbucks Whiskey Barrel-Aged Coffee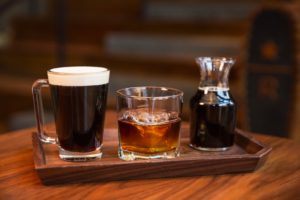 According to seattletimes, in an expedition of bringing something innovative and crafty to coffee business Starbucks keeps its "searching and coming up" going with new ideas. This time it is Whiskey Barrel Aged coffee. It is going to be available only for a limited time and on a single venue; the Seattle Roastery, reports seattletimes.
Barrel aged whiskey, vinegar; beer and syrup are all known items. A few representatives of the coffee industry like Chicago's Dark Matter Coffee, Portland's Water Avenue Coffee Company, and Whiskey Barrel Coffee in Colorado all have already been offering barrel aged beans. Now is the time Starbucks has decided to join the scene.
Barrels which were previously occupied by whiskey, bourbon or other alcohols are used in order to produce that particular flavored barrel aged coffee. Green coffee beans, unroasted, are filled in freshly emptied barrel so they can absorb the flavor.
Starbucks is using its small-lot Reserve Sulawesi beans for barrel aging and empty oak whiskey barrels are sourced from Woodinville Whiskey, Co. reports seattletimes. The green beans are kept in barrels for a few weeks to best absorb the whisky flavor. Continuous manual rotating of the beans inside the barrel make sure all beans absorb the flavor evenly. Upon roasting alcohol vaporizes leaving behind the flavor and aroma.
Whiskey Barrel Aged Sulawesi is offered in the form of two drinks; Barrel Aged Cold Brew and the hot Barrel Aged Con Crema. Both cost $10 each per 8 ounce serving. Whiskey barrel aged coffee may also be bought in the bean form at a price of $3.70 per ounce says seattletimes.com.
Writer and content contributor for international magazines and websites.
Nida has been writing professionally for CoffeeBI since March 2016.