Starbucks Announced To Hire More Veterans And Their Spouses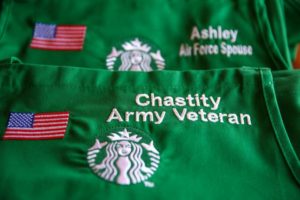 At their annual shareholder's meeting in March 2017 the (then) CEO Howards Schultz made an announcement that Starbucks looks forward to hiring more veterans saying the company will hire 25,000 veterans by the year 2025 as reported by Fortune.com.
Earlier this year Starbucks made a vow to hire 10,000 refugees globally in the coming five years. The pledge also attracted anger along with appreciation as it was announced when colors were changing over the political horizons in the US. Many responded with a view that it should have been the Veterans and their families instead of refugees in Starbucks announcement.
What many of those critics were unaware of was that Starbucks already had a pledge in place for hiring veterans that it made in the year 2013 targeting to hire a total of 10,000 veterans and their families by the year 2018 says fortune.com. The company has already reached the target a year in advance and now has upped the total, adding 15000 more veterans, to make a total of 25,000 by 2025 (fortune.com).
Howard Shultz has stepped down from his position at Starbucks earlier this April in favor of Kevin Johnson who is now the new CEO. Despite the angry social media boycott campaigns Starbucks has not given up on its pledge of hiring refugees.
Writer and content contributor for international magazines and websites.
Nida has been writing professionally for CoffeeBI since March 2016.