WMF Germany about to be auctioned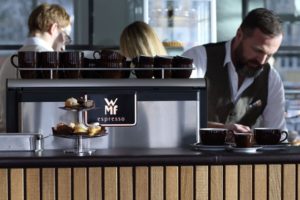 GEISLINGEN AN DER STEIGE – The German coffee machine maker WMF (Wuerttembergische  Metallwarenfabrik) is about to be sold by Kohlberg Kravis Roberts & Co. that acquired the company in 2012 with a deal of €587 million.
The private equity company later bought the remaining shares as well. Working with City and Deutsche Bank, KKR is now welcoming proposals from contesting potential buyers on the sale of WMF. The huge deal is expected to sum some 1.4 billion.
The sale forecast is said to persuade Asian bidders as well considering the current wave of Sino-German business agreements. All such mergers point to China's new goal to acquire high-tech in order to take its economy up to new levels.
The auction process is likely to take place over the current months.
Writer and content contributor for international magazines and websites.
Nida has been writing professionally for CoffeeBI since March 2016.
Interesting content? Share it with your colleagues