Arabica Prices Drop While Robusta Gains (Ico)
During the first eight months of the coffee year 2016/17 (from October to May) total coffee exports have been higher than the previous year (3.9 million bags higher). According to Ico, in May 2017 total coffee exports came to 10.9 million bags, 8.8% higher than in May 2016.
Among the top coffee-producing countries, Brazil has seen a decline in exports for two consecutive years (2016/2017). The decrease was lower than expected despite the relatively poor harvest. Furthermore, the reduced Brazilian export volume could be compensated by shipments from other producers. Notably, Colombia, Ethiopia, Honduras, Indonesia, Peru and Uganda are all positioned to fill the potential supply gap.
Brazil, exports have declined for two consecutive years and currently stand at7 million bags in 2016/17, down 5.9% compared to the previous year
Colombia, exports have increased up to 9.2 million bags, 7.2 % more than in the October‐May period last year
Indonesia recorded an impressive 2.3 million bag increase (+60%) compared to the previous year
Honduras' exports were 30% higher than in 2015/16
Vietnam, shipments areestimated to have decreased by more than a quarter from 2.5 million bags in April 2017 to 1.9 million bags in May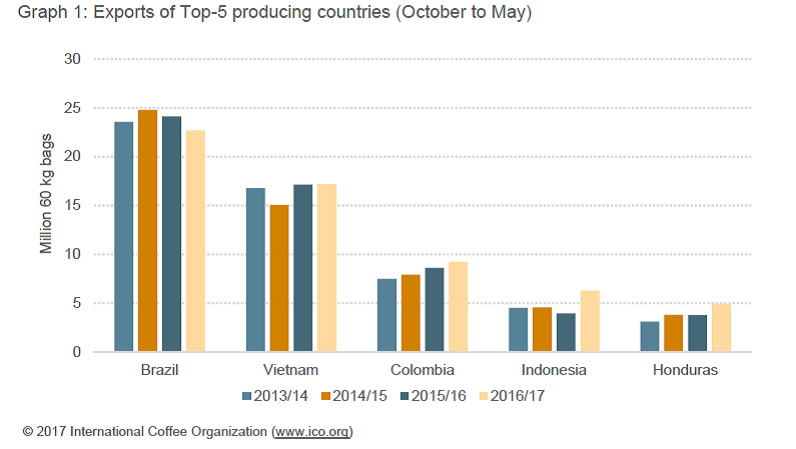 In June, the coffee market was characterised by high volatility resulting in a sideways movement of coffee prices. The monthly average of the ICO composite indicator shows prices were down 2.4% to 122.39 US cents/lb, the difference in price between the start and the end of the month was minimal.
In the first two weeks of June, the daily price of the composite indicator remained in a relatively narrow band of 122.11 to 124.55 US cents/lb. Subsequently prices dropped significantly, with the indicator price reaching its lowest point of 116.51 US cent/lb on 22 June. The price recovered, making up for virtually all previous losses and recorded 123.83 US cents/lb on 30 June, marginally higher than at the beginning of the month.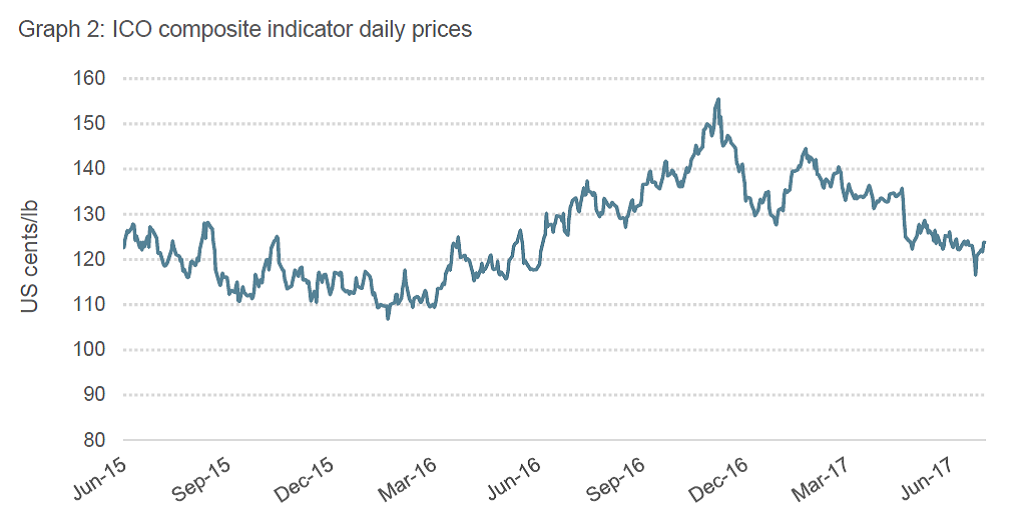 Especially in the second half of June, the breakdown by group indicators reveals that an increase in Robusta prices buffered a drop in prices from the Arabica Groups, preventing the composite indicator price from turning even more negative.
Robustas recorded a strong increase, up by 3.6% compared to the previous month and returning above the 100 US cents/lb mark, following reports about thinning exports from Vietnam
All three Arabica groups in turn registered significant drops as the average prices for Colombian Milds, Other Milds and Brazilian Naturals were down 3.5%, 4.5% and 5.7%, respectively
As a result of the opposing trends in Arabica and Robusta quotations, the arbitrage, as measured in the New York and London futures markets, decreased significantly by 22.2% to 35.07 US cents/lb, the narrowest level since April 2008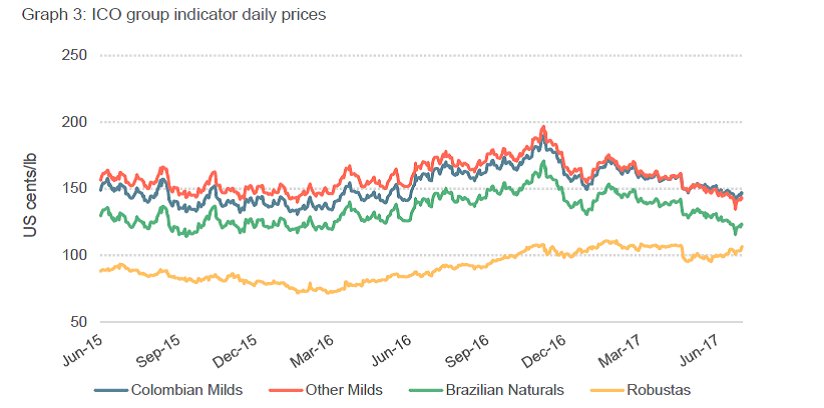 (Source: ICO)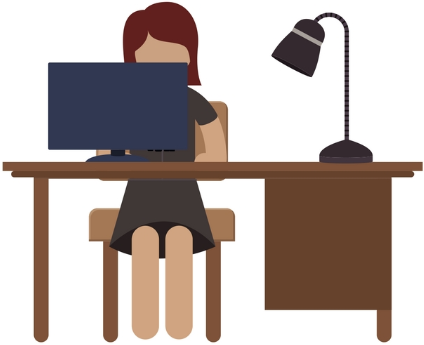 We are a small group of people committed to bringing or selecting unique stories on the B2B coffee industry. We work with CoffeeBI analysts, researchers, and coffee experts from several parts of the globe.