5 Ways To Increase Your Reach On Facebook
Facebook can help you to turn fans into customers. This only works, though, if you manage to involve your fans, when done right. And I'm not only talking about getting Likes, Shares and Comments, but engaging and interacting with your online coffee community.
Without the interaction of your fans, the Facebook algorithm will rank you lower and lower, your posts cannot be seen and your goal – more fans, more reach AND more customers – is slipping out of your hands.
What can you do about that?
1. Your Facebook Fan page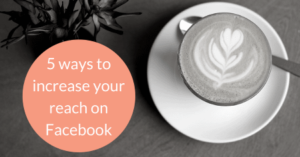 Is your fan page attracting the right people to your coffee business, yet? Make the check! Have a look at your fan page description, at your header photo… View your whole page through the eyes of your fans. Is it how you want your online coffee community see your business? Would you become fan of your own page?
Especially the header photo is the first thing your fans see, when heading to your Facebook fan page. Choose a photo that is of a good quality and has the right size – at least 399 pixels wide and 150 pixels tall. Make your header photo attractive to your fans. Think about, what you want to tell your fans about your business! Is it your customer service? How about showing happy customers in your photo! Is it your signature drinks? How about showcasing these in the header photo?
To increase your reach with your fan page, take the time and go over to other pages and give feedback, answer questions. Not with your personal profile, but in the role of your fan page. You can choose that by clicking on the little arrow on the bottom right as shown in the photo.  This will help you raise awareness for your fan page and your coffee business.
2. Tag another business page
Are you sharing links to useful content, interesting blog articles or podcast episodes from other coffee businesses on your Facebook fan page? Maybe you have a wonderful collaboration with some business partners going on, be it your roaster or your pastry supplier?
You can broaden your own network and increase your reach by tagging those other businesses – their Facebook fan pages, of course – in your own Facebook post (link share, etc.). You can do that by clicking the @ and then type in the other fan page you want to tag.
Facebook will recognize that and suggest the very page accordingly. Chance is high that the other business page, especially if it's your roaster or pastry supplier, will re-post and will make other people aware of your cafe or coffee shop eventually. If you're doing this more often, Facebook algorithm will likely show your fan page to the fans of the page you tagged before.
3. Show your own coffee business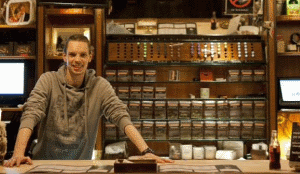 What do I mean by this? Well, some of you out there tend to hide yourself behind your logo, your brand name and your whole business… But, people are not buying from businesses; they are buying from other people. The people behind YOUR coffee business, you and your staff! If you want to increase your reach and engage more with your fans, showing yourself will help you build trust with them.
Show yourself!
Post a photo from you and/or your staff and ask a question together with that photo. Why not posting a photo of you – the owner – with your morning coffee (at home) and ask them, what their morning coffee is/was. This is a great way to find out about their habits and could help you with serving your customers better as well.
Let your fans have sneak behind your curtains. Help them find the similarities they need to decide for your coffee, for your services, for your business. We all want to see and engage with people on Facebook, not brand names, logos and businesses!
4. Engaging by asking questions
As mentioned in number 3, try to engage with your fans by asking questions. Make sure, though, it's a question, your fans can answer right away. Remember, most of us are scrolling through our newsfeed on our smartphones multiple times a day. In our lunch breaks or whenever we have a couple minutes.
Not much time to read many details or think about an answer for too long, right? So, make your questions short and provide possible answers or options to choose from – 1., 2., 3. or a), b), c), etc. When doing it like this, your fans only need to post a number or letter in the comments. You could also ask an irresistible question, like 'How long until your next visit to our cafe?' 'How long until your next purchase in our online shop?' Give it a try! People will start to respond to that!
5. Facebook Live
Have you tried to do a Facebook Live, yet? Too busy? Don't know what to say/tell your fans?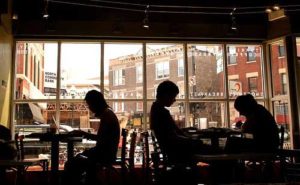 Well, I can assure you, Facebook does rank videos, especially Live streams, higher in the newsfeed of your fans than any other content, you're posting. Think about, if you can do a Facebook Live at least once a week. Show some behind the scenes. Show some brewing recipes that only you do in your coffee shop. Show some coffee roasting.
Remember, people are buying from people. Help them connect with you and your coffee brand. Facebook Live gives you the opportunity to do so by even engaging with your fans Live. But, try not to do your 'show' and that's it. Encourage your fans to ask questions and give feedback during the Live stream. Engage with them and make the connection.
Facebook got trickier with the algorithm going on. The posts you might have planned and thought-out with your staff, cannot be seen by your fans anymore without some effort put into by yourself. These 5 ways help you increase your awareness and your reach. But this only works, if you can manage to take some time for creating your posts and engaging with your fans as well as post consistently.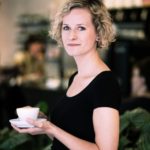 Simel.Coffee stands for the merging of specialty coffee and Marketing. The person behind Simel.Coffee is Melanie Boehme, Coffee Marketing Consultant and branding expert for specialty coffee shop businesses.
Melanie Boehme supports busy coffee shop owners and managers with her inspiring Marketing strategies (offline & online) on their way to a successful & thriving coffee business that customers just love going to.