Coffee and Tea Can Be Successfully Brewed With a Coffee Brew Pipe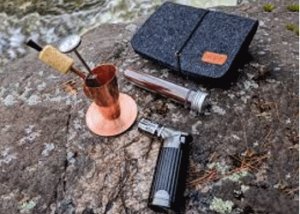 According to dailycoffeenews.com, a new portable tool for fresh coffee in the wilderness for hikers and people who spend a lot of time outdoors is the product of experienced coffee people who created the Bripe Coffee Brew Pipe. Weighting only 340 grams, the Bripe has its heat source – blue flame torch and a grinds canister, so the only thing you need is to pour water and control the brewing using the included thermometer. Once the temperature reaches 180ºF, you should let it down to cool and then sip the liquid through the straw. The device is similar to espresso machines, which means that you need to use 30 milliliters of water and 5 to 7 grams of coffee.
Craig Hall and Tim Panek, the founders of this device, say that each part of the Bripe is reasonably constructed and pre-planned. The stainless steel filter is better than the paper filter used by some other devices, the adjustable amount of coffee, water and temperature allows the coffee lovers to experiment until they find the coffee with the perfect taste for themselves, and the thermometer is attached inside the Bripe to a steel filter screen. The easily performed cleaning is another advantage of the Bripe, since it is done with soap and water.
Panek uses different types of coffee for different daily activities, the one with or without milk or sugar, and he says that you should not be worried about the precision of the coffee shot. Once you determine the perfect taste, it will come out the same each and every time you make it. The only thing you need is to remember the amount of the ingredients and the process you used. He also recommends experimenting while coffee is cooling down, by adding some alcohol, rum or gin, just for fun. And not only coffee, the tea can also be successfully brewed.
The Bripe and its inventors are on American tour. The product is distributed by Summit Distribution, but some other US retailers carry Bripes as well. The Bripe kit's price is $84.95, including a carrying case. The plan is to make it integrated into the ecosystem of camping supplies with some add-ons, like an adapter for refilling the lighter, a stove stand and numerous colors.
Graduated in Philosophy, Sladjana has a master degree in English language and literature. She has worked as an English teacher in various schools in Vranje, as a translator, proof-reader and writer for "Profit magazine" which issues texts about economy, successful people, companies, and marketing. Since June 2017, she has been writing for CoffeeBI as a reporter from Europe.