Dunkin' Donuts Considering a Name Change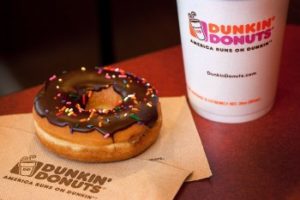 A change in the name is expected for Dunkin' Donuts reports Fortune.com. It isn't official yet, but next year we might be calling them just "Dunkin". After dropping off the donuts, does the company still plans to stay associated with any food commodity, you may ask. Answer is Coffee!
This doesn't mean the brand is going to stop selling doughnuts too. Doughnuts still will be on their merchandise, it's just they want to be known more for their coffee and not the doughnuts says Fortune.com.
The Dunkin' brand is testing the new strategy with one store in Pasadena, Calif. which will go only by "Dunkin" – no Donuts (Fortune.com).
This rebranding has many reasons. Times are changing and the company has been realizing donuts are not as popular as they used to be in 1980s. With consumers becoming more health conscious and pickier about what they eat it is but the right time to pick a new identity for the brand.
On the other hand what has gained popularity during the last two decades is coffee. Lucky for the Dunkin' brand, they already have been selling it and have a stable reputation in the coffee industry.
Seeds for the changing coffee trends were sown by Starbucks but competitors like Dunkin Donuts and McDonald's have equally reaped the benefits. In 1970s and 80s the average price for a cup of coffee used to be 25-50 cents. But with Starbucks's product innovations, coffee profit margins have gone up rapidly especially in the last two decades. It is safe to say coffee is more profitable than doughnuts.
It is quite clear the Dunkin' brand is carrying a definite strategy. A statement issued from Dunkin' Donuts made it further clear saying; "We have been referring to ourselves simply as Dunkin' in our advertising for more than a decade, ever since we introduced our 'America Runs on Dunkin' campaign," according to Fortune.com.
Parent company Dunkin' Brands is looking forward to succeed with the new name at more locations to come.
Writer and content contributor for international magazines and websites.
Nida has been writing professionally for CoffeeBI since March 2016.