A New Line of Modular Coffee Bars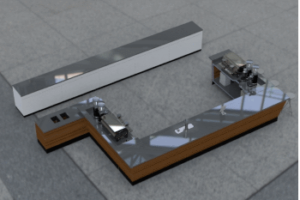 The president and chief designer Chad Bowker, together with the chief engineer Wade Wright in Capsule Mfg. (company which raises the coffee bar to an engineered machine), came up with the upgraded version of the Barista Capsule and Alpha Station, a coffee-shop service counter, now including a whole line of Capsules with more components added to the existing system.
According to dailycoffeenews.com,  entrepreneurs, offices and all the others are now given the opportunity to install even larger and more capable coffee catering and retail bars.
The numerous constituents were supplemented including an ADA-compliant waste bin and condiment station cap designed for offering milk, napkins and other drink additions, as well as a back bar which provides additional space for cabinets and drawers. Systems upgrades include on-board water enabled by 17-gallon tank, making the bar owners free from the need to connect to a building's water infrastructure. Refrigerators with screens on them, washer-dryers connected to the internet and even the bar itself able to connect to the internet are some of the innovations that transform the concept of a coffee bar from a wooden installation into complex piece of equipment. Capsule electrical components now offer international electrical connections appropriate for use in Europe, the UK, Australia and Singapore, while the modularity of the system also supports the shipping back to the constructor for reparation if necessary.
The current combinations of Capsules include Alpha, Beta, Gamma and Delta stations, culminating in dual espresso machines, grinders, refrigeration, sinks and many more modern devices.
The inventor spoke about the future development pointing out that the Capsule team is currently working on cloud-connected sensors for monitoring water usage, rates of consumption, and other stats.
Graduated in Philosophy, Sladjana has a master degree in English language and literature. She has worked as an English teacher in various schools in Vranje, as a translator, proof-reader and writer for "Profit magazine" which issues texts about economy, successful people, companies, and marketing. Since June 2017, she has been writing for CoffeeBI as a reporter from Europe.