Norway, the boom of Coffee Consumption
Norway is one of the leading countries for per capita coffee consumption. It is in second place after Finland. In a country of 5 million people, 80% drink coffee and with a frequency of 4/5 cups per day on average.
The coffee consumption boom started in the mid-1800's with alcohol prohibition followed by high alcohol prices. Coffee took on the status of a social drink which was chosen by many people.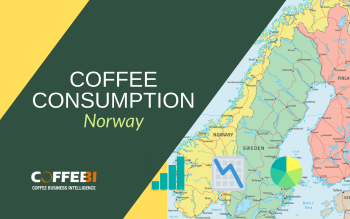 Today, coffee is the first thing that most people have on their mind. Consumers prefer high quality coffee and are very demanding about the origin and quality of the product they are drinking. The roasting is also different in Norway and is particularly light, imparting an almost fruity flavour to the coffee.
The main places where people drink coffee away from home are in the workplace and in coffee shops.
The hospitality industry accounts for about 10 thousand businesses made up of restaurants, hotels and other food services.
The number of coffee shops has slightly increased in recent years. The Nordic coffee culture has also been exported around the world, from the USA to Japan, through the concept stores of Norwegian specialty coffee chains.
The type of coffee that is most common is "a big mug" of filter coffee, but espresso-based drinks like cappuccino are increasing.
In 2000, it was the Norwegians who created the format for the World Barista Championships which were first held in Monaco.
If you want to know more about the HoReCa coffee market: