A New Coffee Shop Format In Moscow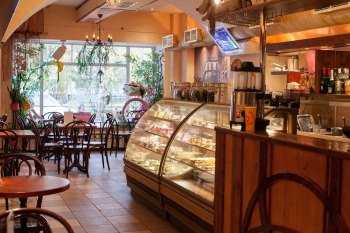 The lawmakers in Moscow have recently changed the rules for open-air cafes. The coffee shops now have an opportunity to implemet new formats for their pavement constructions using benches, platforms, and even window sills. It is a very important innovation because rules for summer cafes and terraces are very strict, and the permission to construct such terrace depends on the width of the pavement. Many coffee shops are located in the streets where pavements are narrow, they have not been able to put up a platform with tables or any similar construction so far. Now the key idea is that such places can have summer terraces and are allowed not to arrange places to sit there.
According to the city administration site, the standards for the new type of summer cafes have already been developed. Cafes can put bar tables along the building wall. They can also use benches with small tables that do not intercept the pedestrian flow. The third option is to use wide sills that are located not more than 60 cm from the ground. And they can also construct a platform that prolongs the floor through a big open window, but no longer that one meter.
According to the Federation of Restaurateurs & Hoteliers of Russia, this new type of cafes will be very popular not only in the center of the city, but also in other parts of Moscow where there is not enough place for a traditionsl summer terrace.