Africa's Top Coffee-Exporter Output to reach its highest in 2016-17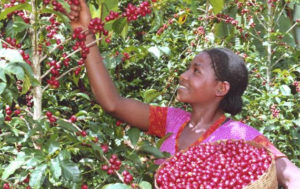 The biggest coffee exporter in Africa is likely to increase its output by 5 percent next season since trees planted in Uganda in the past few years started producing. The nation's regulator said that weather improvement played a major part (Bloomberg.com).
Also, Bloomberg reports that coffee production through September 2017 is estimated to climb to 4.2 million 60-kilogram (132-pound) bags, from 4 million bags projected for the season ending next month.
"We have been planting new coffee trees and new yields are coming into harvest,"  according to the director of strategy and business development at Uganda Coffee Development Authority, Norman Basobokwe Mutekanga. He added that "The weather has been relatively good compared to the last two years when we experienced drought." 
Mutekanga  explained that shipments from the continent's biggest grower of the crop after Ethiopia may climb 5.6 percent to 3.8 million bags next season from 3.6 million seen this year as the regulator cut its export forecast this season by 200,000 bags after a drought cut yields.
European Union, Sudan, Morocco, India, Russia and the U.S are among the main destinations for deliveries of Ugandan coffee, 80 percent of which are robusta. Pursuing a coffee replanting program for more than two decades, the East African nation has replaced trees affected by wilt disease or that are old and less productive, Bloomberg mentions.
The country's plan is to boost annual output to 20 million bags by 2020. The regulator said that this can be achieved by planting 900 million trees in three years through June 2019, plant varieties starting to yield crops two to three years after planting.
Diana Diaconu studies World and Comparative Literature/English Language and Literature in Iasi, Romania. Her area of interest aims at discovering as much as possible from human's cultural experience and existence. Diana continues to progress her passion for writing and her enthusiasm for reading and understanding.
Interesting content? Share it with your colleagues