Starbucks Enters South African Market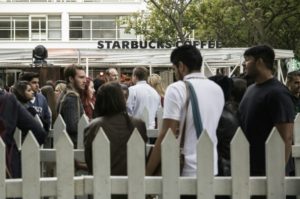 In April 2016 Starbucks opened its first coffee shop in Johannesburg, South Africa and thus added the 71st country to its retail chain.
It is not the first time the famous coffeehouse chain is trying to conquer Sub Saharan Africa. In 2010, during the FIFA World Cup, Starbucks made a deal with Emperica marketing agency and a hotel chain Tsogo Sun. Seven hotels provided venue for mini-coffee kiosks, and that was a great opportunity for Starbucks to present itself in a new market during a tourism peak. But the partnership was over in a year (qz.com).
This time the global coffeehouse company partnered on a 25-year exclusive partnership with Taste Holdings, a South African franchising company (qz.com).
Though now Starbucks is facing quite a competitive environment. For the past ten years, retail market in South Africa has grown significantly. In the food and beverage sector there are many competitor coffee shops, plus other global food chains, like Dominos Pizza and Burger King, are establishing their presence in the market. The main Starbucks rivals in the coffee making business today are Vida e Caffè (with over 70 stores in South Africa), Wild Bean Coffee (New-Zealand-founded coffee retail chain), and Seattle Coffee (launched in the UK by two US-expats in 1993, it launched in South Africa in 1996)- (qz.com, businesstech) .
Nevertheless, the opening seemed to be successful, with long queues even after a week, so the company has ambitious plans for the future. The target is to open 150 places in the region, with 12-15 shops opening in the next couple of years (forbes).
Starbucks counts on the growing urban population that is attracted to American brands, and on foreign tourists who tend to visit familiar places during their trip. Right now tourist market in South Africa is growing due to relaxed visa restrictions and weakened currency.
Besides that, a strategic advantage of winning over the South African market is to make it a starting point to expand into other countries with growing economy in the region, like Nigeria (forbes).
Still, those are long term goals. As for the short term, Starbucks will have to work hard to support the existing level of popularity and revenue. Expansion in Africa has turned to be difficult for many global retailers like Dominos Pizza and Walmart due to unstable political environment and slow economic growth (forbes).