5 Short Term Strategies to Get More Awareness for your Cafe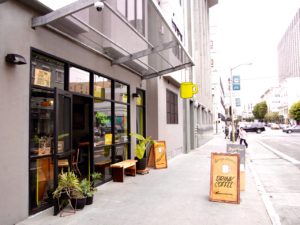 Do you get the reputation you want for your cafe? Do you know why your customers stopped by, when they came for the very first time? Was it a recommendation? A Social Media post? Did they pass by your shop because some special offer grabbed their attention?
The thing is, when you don't know about the reason your customers came in the first place or never asked how they knew about your shop, you won't be able to improve the overall awareness of your cafe.
We all know that, a new cafe or, let's even say, some new shop (for clothes, shoes or whatever) opened in your neighborhood. You're passing by everyday, looking through the windows, seeing all the shelves, the products and a somewhat discouraged person behind the counter.
You're thinking about going in, but you're still feeling kind of awkward, because you'd be the only one in the shop. You start asking yourself, why is no one actually going in there?
What's wrong with that place? Bad service? Bad quality of the products?
You will never know, when you're not going in. But, as a potential customer of that shop or cafe, what would grab your attention? What would let you finally decide to go in?
Lets get out of this customer perspective and back to the person behind the counter again; what would you do to get that person passing by everyday coming in eventually?
Here are 5 short term strategies that will grab the attention of your potential customers and raise the awareness of your cafe (almost) immediately:
Visibility: You're not attracting potential customers by what's behind your door and windows. You cannot expect people looking inside of your shop when passing by. Instead make your cafe visible from the outside! How? Well, there are multiple ways of signages, the easiest is an A-frame sign on the sidewalk in front of your shop. Add a catchy (coffee related) phrase and some special offer, like a free sample, for new customers to get them coming in. If you find yourself in a busy street with a lot of shops and cafes, you could even place another A-frame sign at the corner of your street or the next crossing. But, please check with the restrictions of the city you're in, if you're allowed to do this first.
Sampling: I just mentioned that free sample for new customers on your new A-frame sign. Seriously, free coffee is the easiest way to grab the attention of potential customers and let people try your coffee, the 'stuff' your cafe business is all about. Not everyone has the same curiosity than you as the owner might have. Offer a free filter coffee or an espresso for new customers coming in. Sampling can lead to more immediate sales and can help you getting recommendations as well. Because a good customer experience, especially when being at a cafe for the first time, lets people talk about their good experience. But, be aware, in the same way people will talk about their bad experiences, too.
Special Offer: That could literally be anything. From a new item on your menu for a special price to 2 coffee drinks for one price, if your customers bring a friend. There are no limitations basically.Be creative. A new drink on your menu, a seasonal drink maybe, a coffee cocktail even. A new creation is not just something that grabs the attention of your (potential) customers, but it's also a great way for your baristas to create something new. Engage your staff as well with this creation and the sales of 'their' new drink will be even more successful, because they're personally involved in the promotion. 2 drinks for 1 price. Well, that's nothing new, every other shop does that, but here, we're trying to get even more people in by letting your customers invite friends (and new possible customers for you) over to share those two drinks.
Word of mouth: Speaking of recommendations, the best way to get attention and to raise awareness for your cafe is getting recommended by happy customers. Treat your existing customer nice and they will talk about it. This can include taking the very first coffee of a new customer 'on the house', including a little treat with every coffee beverage your customer is ordering; if they're interestedtell them about how their coffee drink was made/where the coffee is coming from. If your customer feels appreciated, they will tell others. There are several ways how to get new people coming in by pushing these recommendations a little bit: For example the above mentioned 'Get 2 for 1' drink, if your existing customer invites a friend. You can even go more crazy here, if you offer a free drink for every friend, they're bringing with them.
Community: Connect with (potential) customers, online and offline. How? Well, attend community events, be present, where ever possible and give out certain coffee drinks for free. This is not just a great way to let people know about your cafe and your products (and to actually try your coffee), it's also a great way to let your (potential) customer meet the person owning the shop and tell them about your story. You definitely should connect with them online as well. Be it your website or your Social media channels. Let people know about what you're doing and why you're doing it, don't just post another Latte Art photo, because it gets more Likes. Get in touch with your (potential) customers in a conversational tone, let them get to know the people behind the coffee business. Even before you actually open your cafe; this can raise a lot of awareness and is getting people excited about the new coffee shop coming to town.
How do you manage to get people coming to your cafe? How do you let them know, that you're even there? These 5 tipps will help you work out certain strategies that you can implement immediately within your cafe.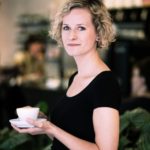 Simel.Coffee stands for the merging of specialty coffee and Marketing. The person behind Simel.Coffee is Melanie Boehme, Coffee Marketing Consultant and branding expert for specialty coffee shop businesses.
Melanie Boehme supports busy coffee shop owners and managers with her inspiring Marketing strategies (offline & online) on their way to a successful & thriving coffee business that customers just love going to.