The International Coffee and Tea Festival in Dubai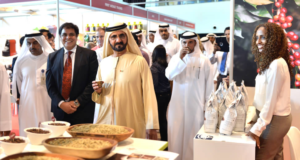 The International Coffee and Tea Festival will be held in Dubai, UAE starting 2nd Nov, 2016 and will come to an end on 4th November. This exhibition is the only of its kind in meeting international standards in the region. With the booming Middle Eastern coffee market, this event has proved to be very significant to the coffee industry, enabling investors and businesses to gain the best exposure of the highly profitable Middle East Markets.
The  International Coffee and Tea Festival has been successfully covering all the angles associated with services and equipment of coffee and tea products for the last seven years, hence, providing a centralized industry-recognized platform for the Middle East and surrounding regions.
The event features B2B trade exhibition, training and workshops, and the UAE coffee championship. The expo offers: networking opportunities for businesses to find potential regional partners, opening the doors to trade meetings, winning sales, as well as opportunities to introduce a company or brand to a large but key audience. Products such as Sugar, Milk, Whiteners, Flavours and Syrups, Barware, Serveware & Tableware, Kitchen & Storage Equipment, Restaurant Supply, Confectionery and Bakery Products, Café as well as bar indoor and outdoor Furniture, Lighting, Café Décor and Art Suppliers, Training, Franchising Opportunities, Coffee, Tea and Bar Trade, Associations, Retailers including Cafés, Hostelries & Restaurants. Other complementary products can benefit just as much. And this being the only event dedicated to the coffee and tea market in the area, can be a ticket to build a whole new brand on the Middle Eastern ground.
Small businesses in particular benefit from the media broadcast that the festival attracts. Being advertised without having to invest hefty amount of money provides small investors with an edge even among established brands.
The venue chosen for the trade show is Meydan Hotel, Meydan Racecourse, Al Meydan Road, Nad Al Sheba,Dubai, UAE. The expected number of visitors for the exhibition this year is around 8000. The festival is undoubtedly playing a vital role in serving the coffee industry in the UAE (10times).
Writer and content contributor for international magazines and websites.
Nida has been writing professionally for CoffeeBI since March 2016.