Cafelat Robot Espresso Maker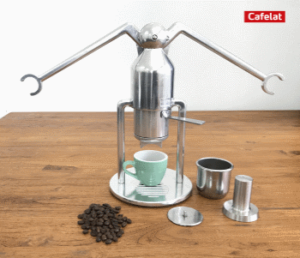 According to dailycoffeenews.com, Cafelat is a manufacturer which designs various coffee accessories like milk pitchers, silicon gaskets and many others. This year, they are announcing a completely new, amazing Cafelat Robot.
What makes this espresso making Robot unique is that it has a 1960s look, but it is based on 1950s technology. The Cafelat design is electronics-free, with a piston which pushes water through coffee inside an extra-deep filter basket containing both the coffee and the water. The main components are made of aluminum, while the filter baskets are made of stainless steel, and the sole gasket inside the machine is silicone. The key point was to make a machine that is not plastic, for health reasons, temperature level and the longevity of the espresso machine. This kind of design makes Cafelat Robot stands out among various other espresso makers that can be found on the market.
Paul Pratt, a coffee engineer with years of experience in designing and manufacturing coffee equipment and a collection of over than 50 extraordinary machines, says that the idea for the Cafelat Robot came from the usage of Faema Faemina Baby machine many years ago and he started the development of the machine in January 2015. The biggest challenge was the creation of filter basket that's 60 millimeters deep due to the fact that modern manufacturing equipment only allows the two main basket companies to make 30-millimeter deep baskets. In the end, one of the companies had a quiet time in their schedule and did it.
"Barista" version of the Robot will appear, featuring a built-in pressure gauge that allows users to monitor and profile the pressure they apply and the company will seek support or pursue a Kickstarter campaign as a means of generating excitement and taking pre-orders.
The price is not fully determined yet, but Pratt estimated that a standard Robot will be priced around $240, while the Barista model with regular basket and additional pressure gauge will run roughly $300.
Graduated in Philosophy, Sladjana has a master degree in English language and literature. She has worked as an English teacher in various schools in Vranje, as a translator, proof-reader and writer for "Profit magazine" which issues texts about economy, successful people, companies, and marketing. Since June 2017, she has been writing for CoffeeBI as a reporter from Europe.