How to Grow Your Audience on Instagram
Are you using Instagram for your cafe, coffee shop or roastery because you think you have to be on there…? Do you actually know if your customer base is active on Instagram? What kinds of people are following you on the photo and video driven platform? Before, make the check with the people already following you and see if these match the customer base of your coffee business.
Some Demographics to find your audience on Instagram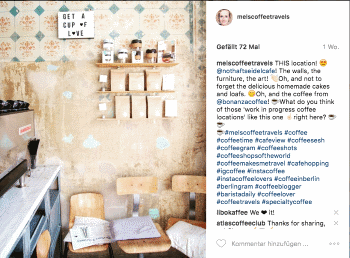 To help you identify your audience, here are some insights on who is using Instagram:
Important to know for you is that almost 59% of all the people using Instagram are between 18 and 29 years old. Only about 33% are between 30 and 49 years old. Also, more women (38%) tend to use this social network compared to men (28%) of all the online women and men. Think about this, when having a look at your customer base!
If the men and women heading to your cafe every day are in their 30ies or 40ies or even older, maybe another platform, e.g. Facebook, works better for promoting your coffee brand and your products and/or reaching your goals for social media.
Find the goals to reach your audience on Instagram
Instagram is a great tool to increase awareness for your coffee brand. The photos, videos and now stories can help you introduce your coffee business as well as your products to your followers. That means – after you've found out that Instagram is the right social network for your online coffee community -, find 1 or 2 goals (not more, if you're just starting out) to reach, when wanting to grow your audience. Let's say, you've just opened your cafe or started selling your products, then Instagram might be a great tool to show your business, what it's all about, the people behind and everything. Meaning, raising awareness for your coffee business and getting followers for your Instagram account is the goal to be working on.
Focus on exactly that with your posts, your photos, videos, your stories or even Instagram Live.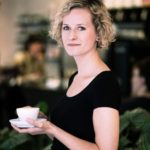 Simel.Coffee stands for the merging of specialty coffee and Marketing. The person behind Simel.Coffee is Melanie Boehme, Coffee Marketing Consultant and branding expert for specialty coffee shop businesses.
Melanie Boehme supports busy coffee shop owners and managers with her inspiring Marketing strategies (offline & online) on their way to a successful & thriving coffee business that customers just love going to.