16 Ideas for Helping your Coffee Business
Did you start your coffee business because you wanted to work with coffee and make customers happy all day long? That's a wonderful reason to open a cafe, coffee shop, or roasting business. But, it won't help your coffee business in the long run. It won't help you get customers day in and day out…
Why? Well, there are plenty of businesses like yours that are trying to do exactly the same! And, if you find yourself in a neighborhood with a lot of cafes and coffee shops for customers to go to, people tend to head to the place they most connect with.
Yes, in most cases it's because of the coffee. But, it's most commonly because of the people working there, because of the atmosphere, and because of the WHY behind your coffee brand.
Not sure what that is? Well, certainly, when you first had thoughts of opening your own coffee business, you must have had some ideas on how to connect to the people you wanted to attract to your future cafe, coffee shop or roastery, and why you actually wanted these people to come.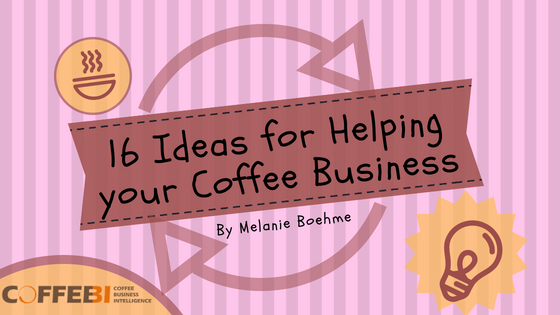 If you're just starting out, and are still wondering what that WHY of your coffee business should be, here are some ideas to develop a striking coffee brand:
What's your profession? What's your personal background?
How can you use that in you brand?
Are you an artist, designer, or photographer? Display art from local artists, or invite them to host an event at your cafe.
Is your space big enough? You could even host public drawing classes.
Are you apastry chef? Make your cakes and pastries the WHY to go to for your customers.
Are you avegan, and want the people that come to your cafe to eat healthy and delicious vegan food that is locally produced and organic? Perfect! More and more people want to try this type of cuisine!
Is yourfamily backgroundfrom Colombia, Morocco, or any other country? Use it for your coffee business, to offer certain foods or drink that you're making homemade at your cafe.
Or you could even create your concept based on your background,in terms of the coffee you're serving, the art you might be showing on your walls, and the music playlist you're playing in your cafe. The list is endless, and all lies within your creativity.
Speaking of the playlist, are you a musician? Make your own special playlists the WHYfor your customers to come to your cafe.
Who are the people you like hanging out with? Art scene? Music scene? Family environment? People tend to go to places they feel comfortablewith, because they're authentic to them. If you're not a family kind of person, don't try to be one.
What are your interests? Music? Art? Photography? Design? Literature, maybe? Host lectures,and have a book shelf sitting in one of the cornersto let people relax and read.
Think about, if you want to have a cafe/coffee shop only business, or share the space with another shop, like maybebikes or records,or even a craft beer shop.
This is not only a great way to cover the rent, but also to share customers. People that are having their bikes repaired might like to drink coffee while they're waiting, don't you think?
What other professions or businesses would work well with coffee? A flower shop, maybe? A barber? Think about it!
Make it about the location!
You don't have to be an interior designer to create a great place to visit. Just be authentic about how you design your shop.
If you're great with interior design or are even an interior designer, create the WHY of your cafe around the interior of your shop. Create your own designs, be creative, and become known for your particular design!
Do you like sailing and hanging out with like-minded people that might also like coffee?Open a shop close to the shore. What's better than a hot coffee after a rough sailing trip out on the sea?
Do you want to do something for the community, or the neighborhood you're in?
If you find yourself in an area where there's a lot of poverty, or even homelessness, among young people, create social projects or programs to get these young people off the streets, and hire them as your baristas or staff members.
Create a fun environment
Do you like hosting events? Think about having a cafe business during the day, and a bar at night. Seriously!
This is not just a great way to cover the costs if you find yourself in a pricy area, but also to benefit from the customers that are either coming in during the day or night: "If you want coffee, too, we're open from 7am every day…"
Are you a fun person that likes playing games? Have a ping pong table in your space, or host little contests, like a hot dog eating contest during the summer.
You could even create a little game for your customers! This is great for your regulars to connect with new people, but also for totally new customers to connect with each other as well.
How? Create little cards with questions that people can pick up at the counter, and go to the person that they want to talk and connect with. Questions could be like, "Ask me about my day before we met here today!" or. "Ask me about the most embarrassing music in my iTunes library!"
Are you a passionate barista?
Have monthly talkwith the coffee community in your area. This is a great way to connect with other coffee shops, get to know each other, and even to share some customers. You could also host Latte Art and Barista training at your cafe, once you've opened.
This list is endless!
Look at your own background, look inside of yourself, what you like, and what kind of people you want to connect with! And these are actually the most important thing, your customers!
When creating the WHY for your cafe, think about your customers, too! They're the ones that come to your cafe, coffee shop or roasting business, and are who you want to attract.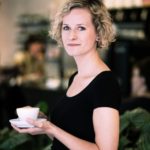 Simel.Coffee stands for the merging of specialty coffee and Marketing. The person behind Simel.Coffee is Melanie Boehme, Coffee Marketing Consultant and branding expert for specialty coffee shop businesses.
Melanie Boehme supports busy coffee shop owners and managers with her inspiring Marketing strategies (offline & online) on their way to a successful & thriving coffee business that customers just love going to.