CoffeeBI Partners with the Coffee Shop Innovation Expo for Another Year
The coffee shop industry is one of the most competitive currently; coffee shops are always seeking new ways to differentiate themselves from their competitors and supply a new and exciting experience for their customers. With such a high level of adversity in the sector, it is imperative to find the latest solutions to stay innovative. And that is why, CoffeeBI is delighted  to announce our official partnership with the Coffee Shop Innovation Expo, the UK's largest event dedicated to the business growth of the coffee shop industry. And the best news? Tickets to attend are FREE.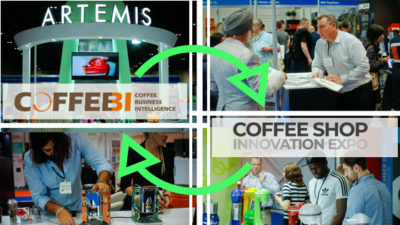 On the 25th and 26th of September, the whole of the coffee shop world will gather at the London ExCeL to see all the latest innovations that the industry has to offer.
This year, the Coffee Shop Innovation Expo will host over 250 visionary exhibitors that will introduce to the latest wave of sustainable technology, help you update the way your coffee shop runs with cutting-edge Cloud storage and EPOS systems, make you discover the interior designs of the future and much more!
You'll also get the opportunity to receive key industry knowledge through 150 expert-led seminars tackling topics such as customer loyalty,  how to make it as a start up, the best use of social media platforms and how to succeed by going green!
And there's more,  take part in insightful panel sessions, witness live product demonstrations, network with some of the industry's top decision makers, get in front of industry pioneers, and best of all, it's completely FREE!
The Coffee Shop Innovation Expo is also running alongside 6 other leading events for the hospitality sector, including the Restaurant & Bar Design Show and the Restaurant & Takeaway Innovation Expo, this show is set to attract the visionaries of the hospitality sector, that are shaping the future of the industry.
Don't waste time! Go to the Coffee Shop Innovation Expo website now to find out more and register for a free ticket!