Coffee Production Drops in 2018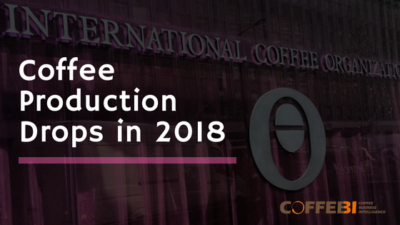 Despite the previous Ico's previsions, which forecasted an increase in coffee production, according to the recent Ico's report, in 2018, Global coffee production was estimated at 158.56 million bags, 0.3% lower than 2017.
Arabica output is expected to decline by 6.6% to 97.16 million bags
Robusta production is predicted to grow by 11.5% to 61.40 million bags
In regards to the major coffee producers:
South America production is 8.2% lower at 70.57 million bags
Africa's production is estimated to rise by 5.3% to 17.63 million bags
In Asia & Oceania. production is estimated to rise by 7.9% to 48.44 million bags
In Mexico & Central America, will rise 7% to 21.92 million bags
Total exports in May 2018 amounted to 9.27 million bags, 12.4% lower than in the same month one year ago. Robusta exports saw a decrease of 4.4% to 3.65 million bags while Arabica shipments fell by 17% to 5.62 million bags.
Fig. 1 – Global exports and production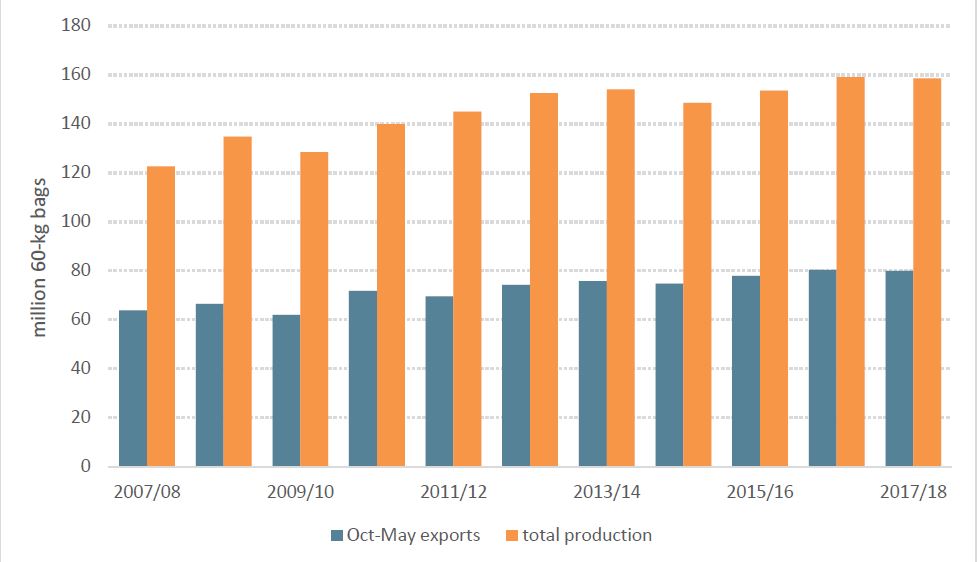 The Ico sheet below reports total coffee exports in the principal countries
Exports in Brazil were 1.7 million bags in May 2018, lower by5%
Vietnam's exports are estimated at 2.4 million bags, 20.5% higher than May 2017 and Its shipments increased 17.7% to 19.41 million bags from October 2017 to May 2018
Colombia's exports are an estimated 15.1% higher, at 960,000 bags, than in 2017, and total shipments declined by 7% to 8.58 million bags in the first eight months of coffee year 2018
Honduras's exports were 747,591 bags, 25.7% lower than 2017, while total shipments in the first eight months of the coffee year 2018 were relatively unchanged at 4.9 million bags
India's exports were about 1,500 bags lower than one year ago, at 630,993 bags
Indonesia's exports are an estimated 55.2% lower, at 350,000 bags, in May 2018, and its exports for October 2017 through May 2018 were2% lower, at 3.89 million bags.
Ethiopia's exports in May 2018 decreased by 11.5% to 396,814 bags, but its exports for October 2017 to May 2018 increased 12.6% to 2.26 million bags.
Shipments from Uganda declined by 21.9% in May 2018 compared to May 2017, reaching 319,035 bags, but are 8.1% higher than in April 2018
Fig.2 – Total exports in May