What Will Be the Future of Hotel and Restaurant Start-Ups?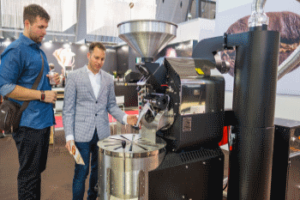 Start-ups are booming and developing more visionary tools, products and services then ever before. Newcome, which will be staged for the second time as part of the European trade fair Intergastra 2018, will offer start-ups a platform to present their innovations for the hotel and restaurant industry.
Covering a special area of more than 1,000 square metres, Newcome will provide an opportunity for start-ups to present their company and products to around 100,00 trade visitors. Different participation packages will ensure that the start-ups find the ideal presentation framework for their company.
The partners of Newcome are the Baden-Württemberg branch of the German Hotel and Restaurant Association (DEHOGA) and Ifex, the initiative for start-ups and business transfer of the Baden-Württemberg Ministry of Finance and Economics.
Elevator Pitch: success in just three minutes
Anyone wanting to successfully sell their ideas must be convincing and know what arguments turn listeners into supporters in just a few moments. The Elevator Pitch on the Dehoga stage will offer start-ups precisely this opportunity. Inspired by a short discussion in an elevator, for which no more than three minutes are available, potential restaurant start-ups will present their concepts to renowned industry experts on the show stage. The winners will compete against one another in other competitions. The winner of the first prize in the regional final will receive €3,000.
Full speed ahead with innovation
The Intergastra Innovation Prize, which will be presented during the official opening of Intergastra 2018, will honour for the tenth time outstanding concepts in the areas of kitchen technology, design, food and beverages, building and facility management, sustainability, productivity and sales promotion. The closing date for entries has been 15 October 2017. A first-class jury with 13 members selected the winners during the run-up to Intergastra 2018.
Varied accompanying programme
Anyone not taking part in one of the competitions will also certainly not be bored during Newcome. The exciting programme will feature a large number of talks and discussions in the Future Laboratory, and will provide opportunities for networking and the exchange of information and opinions with experienced restaurant experts. Visitors will also be able to gain an insight into the future of gastronomy since the results of the competition entitled "Restaurant of the future" will be presented in the Newcome section.