Origin of Some Coffee Defects: Fermented Coffee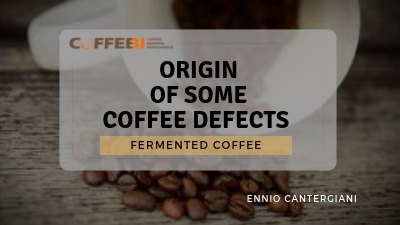 Fermented coffee is the most important defect found in coffee trade. This is mainly caused by bad agricultural practices or bad drying conditions for coffee cherries.
A few years ago, a lot of natural coffees were defined as fermented ones. Today, the cursor moved to accept more natural processes and therefore, natural coffees. Flavours are described as "complex" in opposition with "clean cup" for the coffees processed with the washed method.
Unfortunately, "fermented" defect cannot be detected by a single or a few molecules. It is the balance between a series of aromatic molecules that gives this specific defect.
In the flavour world, you can find a single molecule that gives you the major tonality of the fruit or the natural product. Examples are the following:
Isoamyl acetate: banana
Eugenol: cloves
Acetic acid: vinegar
Cis-3-hexenol: green apple
Benzaldehyde: almond
Rose oxide: rose
But in most cases, the reality is not so simple. The balance between molecules gives you the tonality of the product. Examples are: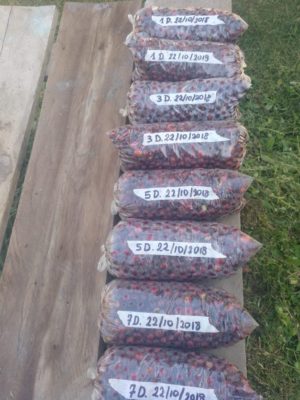 Coming back to coffee, some fermentation naturally occurs, so the balance should be managed and kept under control. Here are the different types of fermentation during the drying process:
Acetic fermentation (anaerobic): the transformation of sugars into acetic acid (vinegar)
Lactic fermentation (anaerobic): the transformation of sugars into lactic acid (dairy)
Alcoholic fermentation (aerobic): the transformation of sugars into ethanol (wine)
Anaerobic fermentation occurs when coffee cherries or coffee parchments are left too much time without oxygen, typically at the bottom of the drying beds. So, it is very important to move the beds in order to have a uniform drying process.
Some trials were done forcing entire cherries to stay in an anaerobic environment for a few days in order to give the coffee a new special taste. In that case, a specific flavour profile was obtained, different from the other standard methods. This is something new and it is very interesting to continue these kinds of investigations to find new flavour profiles. The coffee world needs innovations from the farm to the cup!
Coffee and beverage expert, SCA Authorized trainer & certifier (Barista, Brewing and Roasting modules). Coffeologue training by Coffee Consulate in Mannheim. Consultant for coffee expertise for several international companies.
R&D and Quality manager, specialist in process optimization and global quality management (ISO22000, FSSC) with strong operational experience in Europe, Africa and Middle-East. Strong competences in project and team management (Black Belt Lean Six Sigma). I am working today in process optimization, starting with coffee pods/capsules production using DMAIC methodology. I am also very active for the overall training program within the SCA Swiss chapter.
My last successful project in the coffee industry is the creation of "L'Académie du Café" in Geneva where people can learn all aspects of the fantastic coffee world. All SCA modules, latte art and specific roasting and cuptasting trainings are now available. There is, today, a strong need to learn coffee like we learned wine and wine tasting in the past decade.
Expertises: Barista, Brewing, Roasting, Espresso, BlackBelt Lean Six Sigma, ISO22000:2005 FSSC, Beverage technology, Quality Assurance, Analytical chemistry, Sensory Analysis and Statistics, Quality Control, Coffee Technology, Flavour Microencapsulation.
Interesting content? Share it with your colleagues