How will the vending industry change?
"The Future of Vending"
How will the vending industry change? Which players will dominate the vending market in the future? Where is there new business potential? What are theindustry's forthcoming trend themes?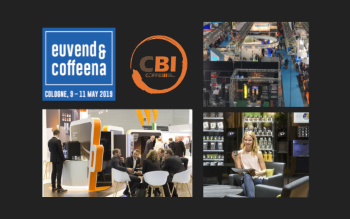 All these questions will be answered by experts on trends from the vending business, ranging from founders and experts from the venture capital scene as well as professionals from the retail trade at the expert forum "Visions of Vending". The forum, which will take place in Cologne, at Euvend & Coffeena 2019 (9 to 11 May 2019), will have as its focus: "The Future of Vending". "Market Trends in Europe", "Vending in China", "The Internet of Food" or "New Work as a new market for the vending industry" which are just some of the themes that will be reported on and discussed. This is a perfect venue providing an ideal opportunity to find the answers as to how you can make your business ready for the future.
"Vending Star"
"Vending Star" is the prize for innovation which is awarded and that is organized by euvend & coffeena. The "Vending Star" honours services that guarantee sustainable optimisation in the vending market.
Koelnmesse, as the organiser, and the German Vending Association, (BDV), as the industry sponsor of the trade fair, initiated the innovation competition for the 2007 event in order to promote the development of innovative ideas in the vending industry and thus set sustainable goals and ideas for the continuing market development of the vending industry.