All the expressions of coffee at HostMilano
The entire HORECA universe will be meeting up for the 41st edition of HostMilano. From bars and pastry shops to restaurants and ice cream parlours, tableware and furniture suppliers.
In HostMilano, the packed menu of coffee-related events kicks off with TO COFFEE, curated by Andrej Godina and the Umami Area Association. During all five rounds of the event, the focus will be on supply chain sustainability as the key concept to be communicated and offered to consumers alongside the most current scenarios of innovation and the latest ideas on cross-contaminations between different worlds and product categories.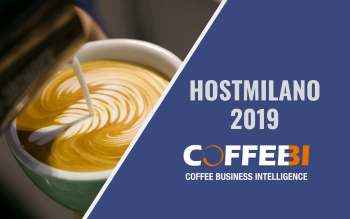 Another event not to be missed is the sixth edition of the Gran Premio della Caffetteria Italiana (Italian Coffee Bar Grand Prix), organised by AICAF and ALTOGA – Associazione Nazionale Torrefattori e Importatori di Caffè e Grossisti Alimentari, in which the best Italian baristas selected during the year will battle it out.
The two associations will also be organising the WORLD LATTE ART BATTLE CHAMPIONSHIP at the ALTOGA stand in partnership with AICAF, in which the best Italian and international milk artists from over 10 countries will compete.
An itinerant event will move through various stands that have chosen to join in. Coffee Addition, organised by Gianni Cocco, Aicaf – Accademia Italiana Maestri del caffè – and ALTOGA – Associazione Nazionale Torrefattori e Importatori di Caffè e Grossisti Alimentari is its name. Through a series of presentations dedicated to professional operators, the spotlight will be on an original theme such as the relationship between mitigation and coffee beans.
Meanwhile, the FIPE – Federazione Italiana Pubblici esercizi stand will serve as the stage for professionals and experts taking part in FLAIR & MIXOLOGY h 24, a real bar counter with different areas to showcase the array of skills of baristas, bar staff and bartenders.
Training and entertainment in front of many national and international guests. Exploring the trends concerning natural products, vegetarian options, super foods and locally sourced ingredients, Mixer together with the magazine Planet One will be introducing "Gli aromi del Food & Beverage" at Host 2019, a space where to bring the attention of managers and customers to a new type of consumption linked to concepts of naturalness, well-being and awareness. The goal is to foster a genuine renaissance of the food & beverage concept.