Nestlé launches its first Café Nespresso in London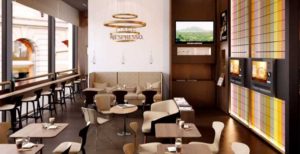 Encouraged by the successful trial in Vienna, Nestlé launches its first Café Nespresso in the City of London. Nestle plans to open five to six more cafes in future across London, beginning with the first British coffee shop on 100 Cheapside in a development being built by Quadrant Estates as stated by The Times.
The concept will go towards other UK cities as well if proved successful in these early steps. The café is going to serve 11 different coffees with selected food items that correspond with different coffees like panini, quiche, sandwiches and a lobster roll. The coffee variety is itself going to be from brand's premium Grand Cru range, besides coffee mock-tails including a rose cappuccino, a macaroon latte, and a minty mojito coffee as reported by standard.co.uk.
No classic baristas will be designated at the café as all coffee would be made with capsules from the Nespresso Business Solutions range, designed to be used in restaurants and hotels.
Although Nespresso Maestros would be there to serve it, which are also specially trained to provide immediate coffee advice, food-matching ideas, information on the origin of coffee and take-away.
In an attempt to encourage customers to have "enhanced coffee experiences" Nespresso Café will not serve alcohol.
The café will include a robotized order picking system or automated self-service boutique named Nespresso Cube. The café plans to begin operating early in the morning from 6:30am for the convenience of early-starting city work force.
The company is also widening its range of apple-style showrooms or retail boutiques so as to provide customers with a unique experience of sampling a spectrum of coffees, while buying coffee machines and related accessories. Currently almost 13 Nespresso Boutiques are operating in UK and Ireland. The most recent openings of such boutiques include Westfield London, Bluewater shopping centre and Brent Cross in London, and in Limerick in Ireland, that happened right before Christmas 2015 as reported by The Gaurdian.
According to Francisco Nogueira, general manager of Nespresso UK & Ireland, "Café Nespresso is our latest innovation in the retail and service arena. As we have seen through the expansion of our boutique offer, there is a great deal of demand from UK customers for our range outside of the home. Café Nespresso is the next step in our customer experience."
Another innovative idea launched by Nespresso is its first internet connected coffee machine in correspondence to "increasingly connected lifestyles" – the Prodigio, available at John Lewis and Debenhams. The machine will be connected with an app enabling the users to have their cup of coffee ready by the time they get up. The Bluetooth connected app also allows users to select from multiple ranges of coffee and brewing techniques and even order new supplies.
Writer and content contributor for international magazines and websites.
Nida has been writing professionally for CoffeeBI since March 2016.
Interesting content? Share it with your colleagues