Ugandan Coffee Farmers Smile as Prices Rise
Coffee farmers and traders in Uganda are happy as coffee prices have gone up this season as compared to same period last year (reports All Africa).
Ugandan Coffee Farmers Smile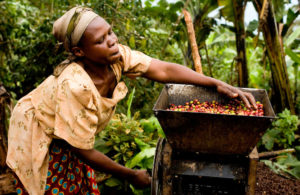 The price of fresh coffee cherries has gone up to Shs1,200 per kilo compared to Shs800 last year, meanwhile a kilo of dried robusta coffee is Shs2,400 compared to Shs2,000 last season which saw a drop in yields.
Uganda has two harvest seasons for both robusta and arabica coffee. The main season for Arabica coffee is April to June in the Western region and the Eastern and Nile region from October to February. Meanwhile, robusta starts from May to August in the western regions and November to February in the central and eastern regions. Main crop harvesting starts in September through January in the central region.
Improved Quality as Reason for Better Prices
However, in spite of the price hikes, coffee farmers, especially in the Bamunaanika Sub-county in the Luweero District complain of low quality because of the prolonged drought that took place. The director of UCDA's quality and regulatory services, Edmond Kananura, also cautioned farmers to stay calm and not get so excited as prices may go down anytime. He said what may has made prices to improve could be improved quality and weather conditions that may have reduced productivity in other production countries. He advised that farmers should harvest only ripe berries and use drip irrigation method during dry periods in other to maintain prices.
Farmers' Reaction
A coffee farmer in the Kangulumira sub-county in Kayunga District states that he expects to earn about Shs15 million as against last years Shs11m on his two acre plantation. Another farmer, Rose Namuli in the Mukono District said price increases have come about because of the strict measures put in place by UCDA to improve the quality of coffee. She says it's a good season for her as she plans to use the income from sales to renovate her house. However, another farmer noted that the prices might go down during the festive season.
Last year, FAQ robusta was Shs4,600 and has gone up to Shs5,200, while arabica was at Shs5,000 last season compared to Shs5,600 this season.
It should be noted that Uganda is the highest exporter of coffee in Africa with 2.71 million 60kg bags exported in 2015 alone.
I am a blogger and an experienced freelance digital content writer with focus on small business, finance, agribusiness and tax law.
Interesting content? Share it with your colleagues