CoffeeDOOR: Ukrainian Coffee Supplier Opens its Coffee Shop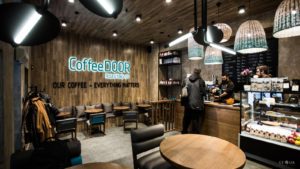 Viktoria and Andrey Babin started their import business in 2010. The couple founded CoffeeDOOR and began to deliver Italian premium coffee to Ukraine.
After three years and an internship in Spain the amount of green coffee the company imported to the country was measured in intermodal containers. The grain is transported according to all international standards and is stored in compliance with humidity, temperature, and ventilation norms.
By now CoffeeDOOR has got 300 partner companies in Ukraine.
After conquering the grain market, the Babins decided to open their own coffee shop in the very heart of Kiiv, the capital of Ukraine. They created a stylish place with unique atmosphere and quality coffee.
Company's logo says "Our coffee – everything matters". So the coffee is made out of the specialty grain provided by Nordic Approach, one of the best world's coffee hunters. And the equipment used in the coffee shop is provided by Victoria Arduino (World Barista Championship sponsor).
So it would be safe to say that CoffeeDOOR has made a strong statement and has great prospects in the Ukrainian market (cf.ua/news)