Considering the 'Coffice Economy'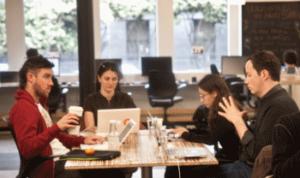 This is a new piece of research which highlights another important function of café spaces – as places not only of co-working for independent workers, but as places where business and work takes place more generally.
The discount voucher website MyVoucherCodes has recently released some data which suggests that:
4/5 people in the UK have spent at least 3 ½ hours working from a coffee shop each week;
1/3 have closed a business deal (with an average

This content is reserved to the members of the CoffeeBI Community. 

To continue reading, register for free or sign-up here.

Jennifer is a researcher in the Centre for Business in Society at Coventry University and her research interests focus on the coffee and café industry. She researches how the café industry has developed in different national markets, different business models within the café industry, and the role of cafes in different urban spaces. In particular, a current project, 'Spaces of Community' explores the economic impact of cafes but also the importance of cafes for different communities and cultures considering how and why cafes have developed, what roles cafés play in communities, how cafes spaces are used, and the ways in which cafes engage with their local communities. You can read more about her research on the 'Café Spaces' research blog.